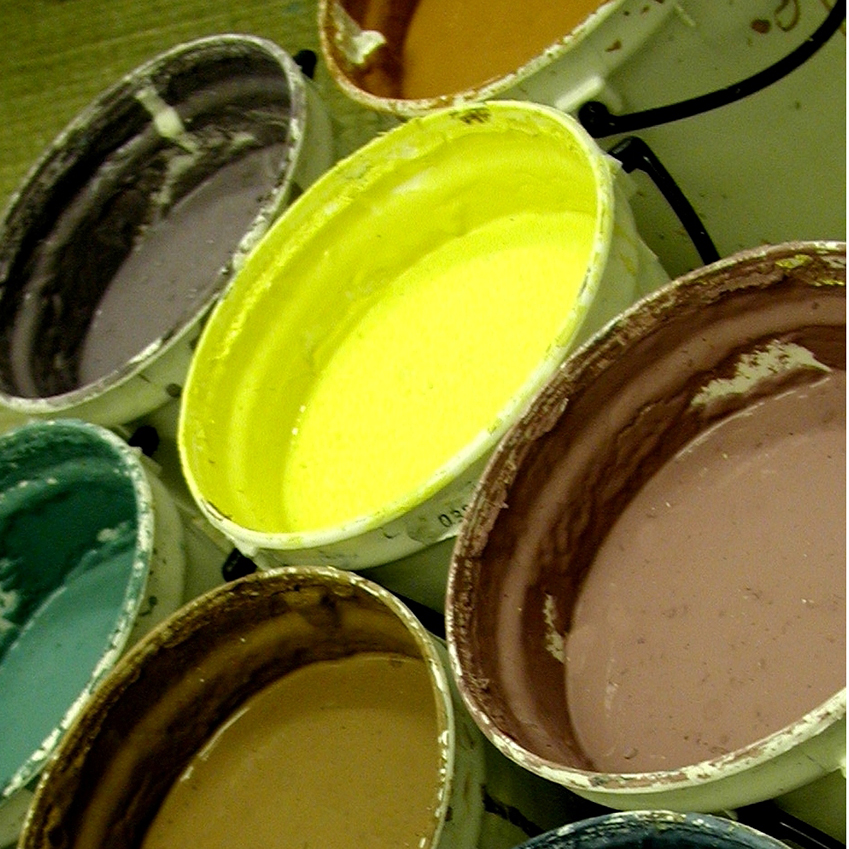 Your kitchen paint choices explained
From steam and heat to water splashes and oil, paint in your kitchen has to be able to cope with a lot. Here's our guide to make sure you choose wisely…
Walls and woodwork

What sort of paint should I use? Until recently, those painting a kitchen were advised to use an emulsion specifically formulated for kitchen or bathroom use, as they are durable, mildew-resistant, and able to withstand hot, steamy environments. This remains sensible advice if you're painting a small kitchen, or plan to refresh the area around the oven, sink and hob. However, as modern kitchens are often open-plan, general paint finishes are perfectly fine – but it makes sense to choose one that can be wiped clean (see below).
Low-sheen eggshell paints are ideal for walls and woodwork (and can also be used on metal) as they disguise imperfections. They are forgiving of less-than-perfect brushwork, and resistant to chipping, so work well in sociable or busy areas such as dining areas. The paint is either oil or water-based, and the finish easy to clean. It can be touched up if the surface is damaged.
Satin (or silk) paint is also an easy-clean wall finish – although it is not as simple to 'touch up' if damaged. Satin finishes do, however, offer more stain resistance than most paints, which is why they are often used for windows, doors, trims or ceilings.
How much paint will I need? An online calculator will help you calculate how much paint will be required for a room in litres (Both Dulux, and Crown have versions). First, you will need to measure the length and height of each wall, along with the dimensions of windows and doors. But as a general rule of thumb: for a room 4m x 4m and 2.5m high allow 5 litres for the ceiling, 10 litres for walls and 2.5 litres for woodwork; this is for two coats.
Floors
Most types of flooring can be refreshed with paint: be it wood, concrete or linoleum, but it's important to use specialist floor paints such as those by Farrow & Ball, Little Greene and Mylands. Prepare wood floors by filling in any gaps or joins with wood filler before sanding and wiping down; the floor should be completely dry, and any blemishes or varnish on previously treated boards should be removed before you prime and paint. Turn off under-floor heating for at least 48 hours before you begin to ensure the surface has cooled. And give both concrete and wood floors at least two-to-three coats for a professional finish.
Top Tip: When painting a linoleum floor: clean, sand and wipe away any dust to prepare the surface; use a roller and an oil-based primer, then finish with three coasts of oiled-based clear topcoat. Wear socks or slippers for the first week to give the paint time to cure.
A note on natural paints In 2010, EU limits lowered VOC levels in paints (VOC stands for volatile organic compounds aka the toxins and solvents that are released into the air when you paint). This led to water-based low VOC paints being labelled as 'eco-friendly' but this is controversial – there are varying shades of 'green' when labelling paint finishes. And there's no such thing as a completely VOC-free paint. As Edward Bulmer of Edward Bulmer Natural Paints puts it, "There is no such things as no VOCs, you create VOCs when you fry bacon and eggs! The VOC rating for our emulsion is less than 0.2% and that is the lowest VOC rating of any paint sold in the world." Essentially then, consider plant and water-borne paints that are biodegradable after use. These paints can be more expensive than general finishes, but they contain finer pigments that are claimed to be less resistant to fading, and they are ideal for allergy sufferers. You will also find hardwearing, easy-clean paints that are practical for kitchen use too.
Our top three favourite 'healthy' paint companies…
1 Edward Bulmer Natural Paints
You can read more of our Insider Guides, on everything from houseplants to parquet, here.
Ends