Drink more coffee, do stupid things faster
If you love the bean, then here's six things you really ought to know…
1 The best home cold-brew coffee maker. Not to be confused with iced coffee, cold-brew coffee is a method of steeping beans in water for 12-24 hours to extract the complex flavours. OXO's 'Cold Brew Coffee System' includes a 'rainmaker' attachment that ensures the water falls evenly over the grounds, resulting in a smoother, sweeter taste. £38.25 from Amazon.
2 The new taste sensation: NitroBrew, which will shortly be offered in all the Soho House locations in London, plus their new Ned Hotel in the City of London. What is it? A frothy, cold-pressed coffee infused with Nitrogen that comes straight from the tap so that it resembles a glass of Guinness. A clever invention from Sandows, the cold-pressed coffee company.
3 The fast track to all things happening'n'coffee at The London Coffee Festival which returns to the Old Truman Brewery in East London's Shoreditch from 6-9 April 2017. Watch the "Coffee Masters" competition for the world's best barista, check out the latest in Latte Art, attend workshops, talks and cupping sessions from the likes of Caravan Coffee Roasters and green coffee sourcers Nordic Approach, and caffienate to your heart's content. Advance tickets online, £16.50.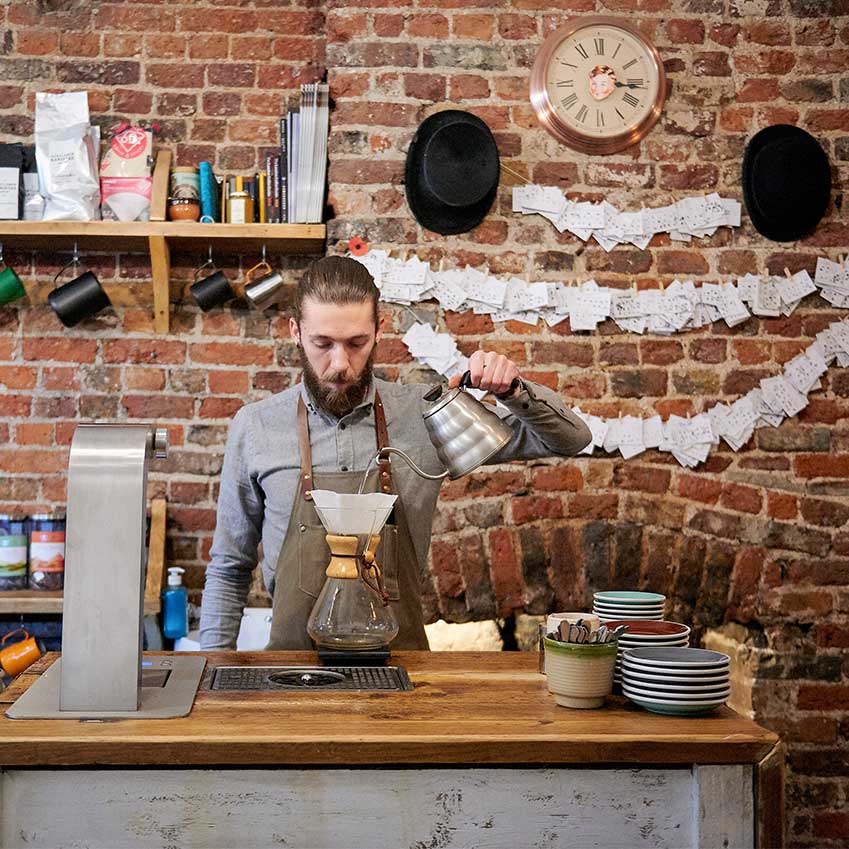 Not sure what a coffee master is? Then meet Phil Groves, one of the contestants entering this year's London Coffee Festival Coffee Masters Competition, representing Timberyard, voted Europe's best workspace/coffee shop…
4 The new smart coffee maker The bean-to-cup 'PrimaDonna Elite' coffee machine by DeLonghi can produce everything from a flat white to an americano, but here's the smart bit: it can be controlled via a smartphone app that memorises your personal tastes, from the ideal strength to the temperature or even your desired milk-to-coffee ratio. It's pricey though at £1,500.
5 Possibly the most beautiful coffee set ever. Following his much-acclaimed gold 'Form' tea set, Tom Dixon launched a collection for coffee-lovers too. The 'Brew' range includes everything you need for coffee-time entertaining, from a stylish scoop and cafetiere to espresso cups and a stovetop coffee maker. Serve with biscuits stored in the matching biscuit tin, all presented on a shimmering tray. Each piece is made from stainless steel and has a vaporised copper finish. 'Brew' coffee set. Pieces available individually. Cafetiere, £140. Tom Dixon
6 And finally, did you know that CRU Kafe sources only organic, ethically-sourced coffee beans — think Peruvian Cajamarca, which supposedly tastes like "toasted caramel and gooseberry" to an Ethiopian Shakisso Farm blend which hints at citrus and fresh fruits — but most importantly, it now makes biodegradeable pods that are compatible with Nespresso coffee machines! Result. Nespresso compatible pods, from £3.48 for a pack of 12 pods.
For more: see our pick of six Best Buys: coffee pots, from beautiful basics to investment buys.
Ends