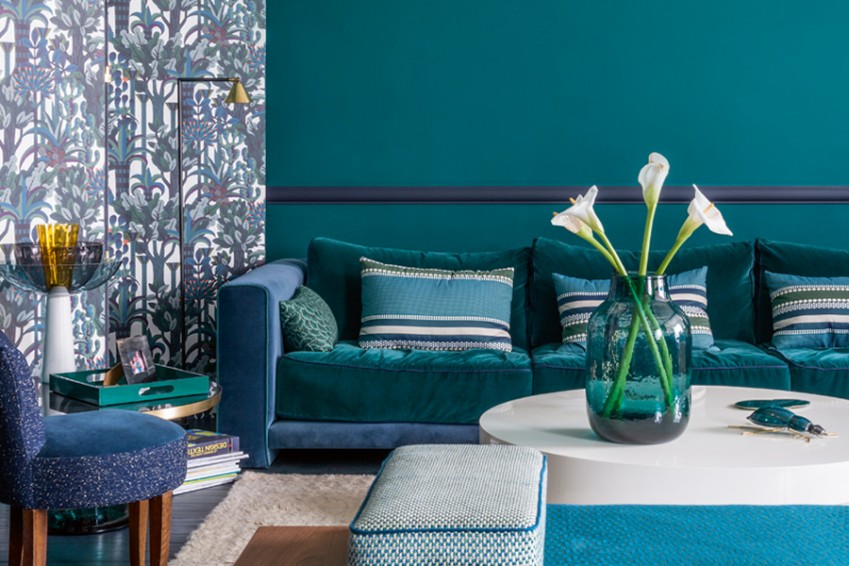 How to do colour: deep teal
A deep teal blue is our expert pick for the colour of the year 2017. Why? Because it embodies depth alongside warmth; cool with calm; it's cosily enveloping, yet never overwhelming. Perfect qualities for any home. As well as having many shades, and uses, from darker, grey-toned moody hues to the Lapis Lazuli blue brights end of the spectrum.
1 Perfect coordination. There are few colours that you can use throughout a whole scheme and not feel utterly overwhelmed, teal is one of those. With such a breadth of tones it can cheerfully be employed from upholstery to prints, underfoot as rugs and on the walls as the backdrop to the lot.
2 Strong but never shouty. Teal is a strong colour, but being from the blue family of shades it is a rare combination of strength and quietness in one. Used in this kitchen on the lower units, it really anchors the scheme, and adds that requisite touch of individuality, without taking over.
3 A warm adjunct to navy. Many blues can be rather cold, albeit they are the nation's favourite shade! But from midnight navy to denim hues, add in a pop of teal and the whole will be lifted.
4 Perfect accent colour. Even a single accessory in this wonderful shade can add a burst of life to any space, from living rooms to bedrooms.
Read more about how to use this shade, in our Editor in Chief's Trendbulletin 1.
For for loads more pictures, check out our comprehensive Deep Teal moodboard of rooms, products and interiors inspiration.
And see the rest of our wonderful Colour boards here!
Ends