We earn a commission for products purchased through some links in this article.
15 creative Christmas decorating ideas to inspire your home's festive makeover
Do Christmas a little differently this year, from alternatives to the traditional tree to putting a twist on table settings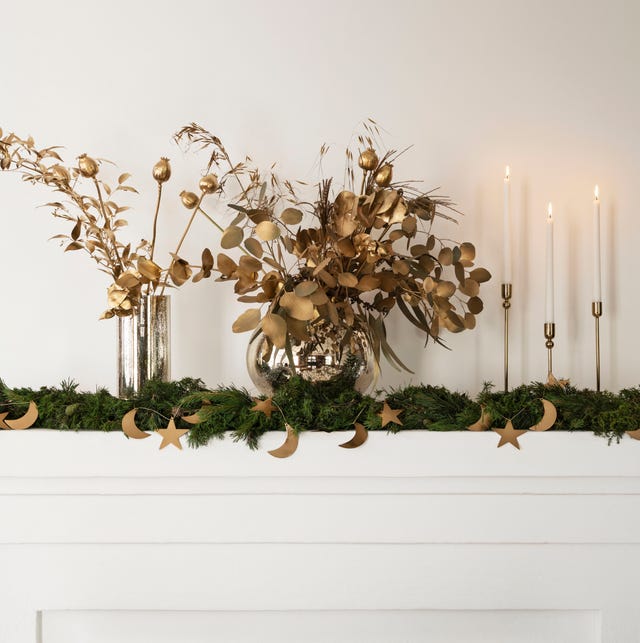 The advent calendars are officially counting down and it's time to get your home looking ready for the festive season. Whether you're a lover of maximalist decorations (if we can't go big this year then when can we?) or your tastes tend more towards cosy, natural styling, we have ideas that will spark your inspiration. So put away those tired old baubles and tinsel and start planning a Christmas to remember…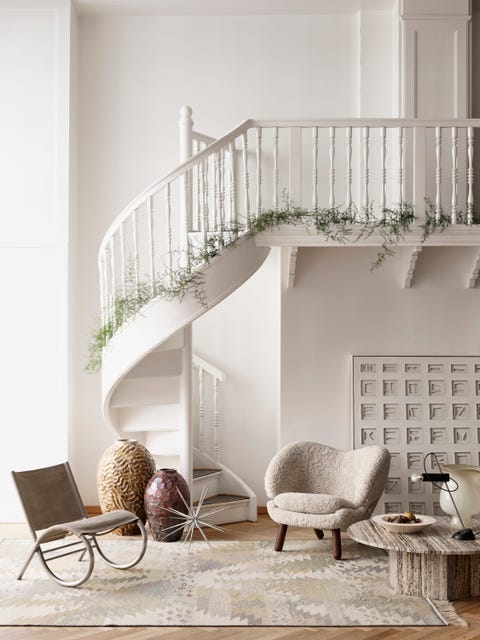 A handrail heaving with greenery might be a decorating tradition, but gently threading foliage along the base of the bannister is a subtler take on the same idea. Feathery options like olive branches are contemporary and easy to work with.
'Richardt' chair by Frama, £2,162, Questo Design. 'Pelican' chair by Finn Juhl for House of Finn Juhl, £8,389, Skandium. 'Epic' coffee table by GamFratesi for Gubi, £3,005, TwentyTwentyOne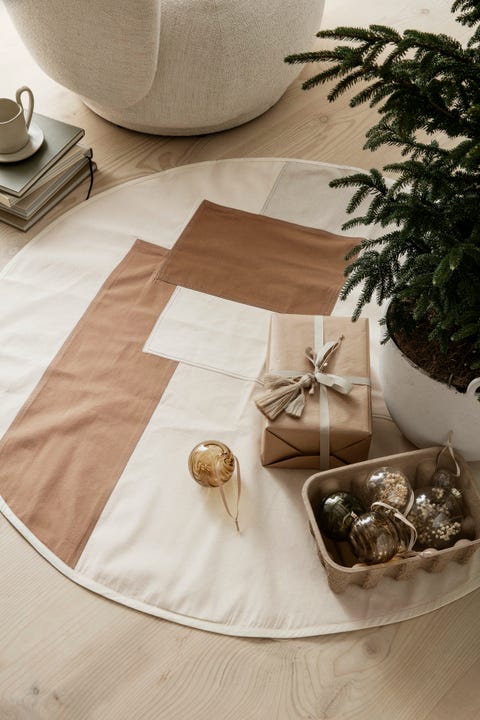 If you've already selected a stylish pot or stand for your Christmas tree, skip the skirt in favour of a decorative rug. It will balance the proportions of the tree and create a natural zone for all the presents – if you're really coordinated, you can even match the gift wrap.
'Tonal' Christmas blanket, £63; 'Twirl' ornament, approx £24 for a set of four; 'Paper Pulp' box, approx £30 for a set of two, all Ferm Living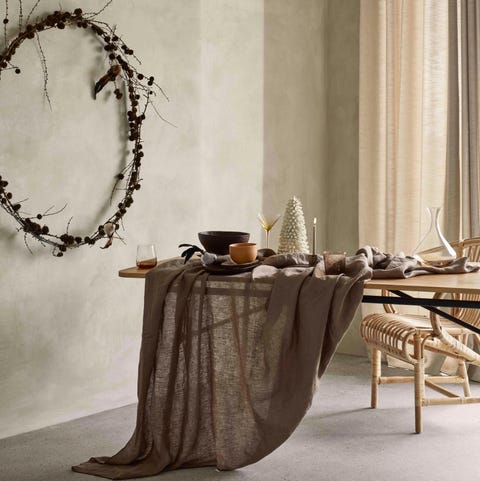 Create a focal point at a drinks party with an oversized yet understated twig and fir cone wreath. Layer your table in soft, earthy tones with linen, candles, bowls and coloured glasses –perfect for a pared-back celebration.
Glassware all Broste Copenhagen at Nordic Nest. For similar linen tablecloth, try 'Gracie' tablecloth, £107, The Scandinavian Shop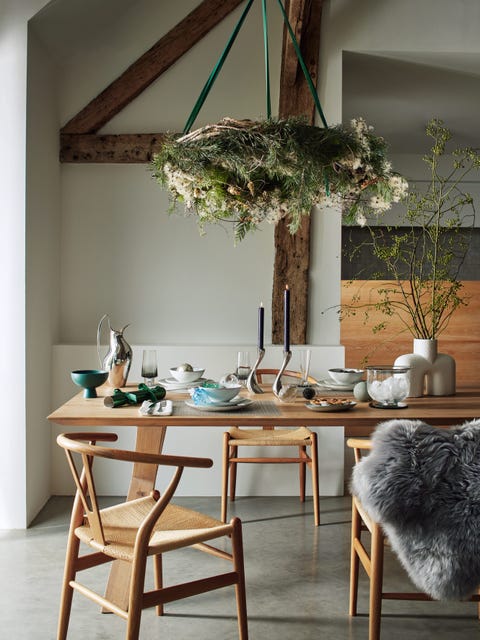 No matter how capacious your Christmas table, it'll invariably end up crammed with crackers, condiments and candles, with little room for much else. Hanging a centrepiece above the table skirts this problem and means you can go bigger with your arrangement – winter greenery will emit a lovely scent.
'CH24 Wishbone' chair by Carl Hansen & Søn, from £442; 'Oslo' dining table, from £1,899; Icelandic Sheepskin rug by The Organic Sheep, £130; 'Cobra' candle holders by Georg Jensen, £125 for a set of two, all Heal's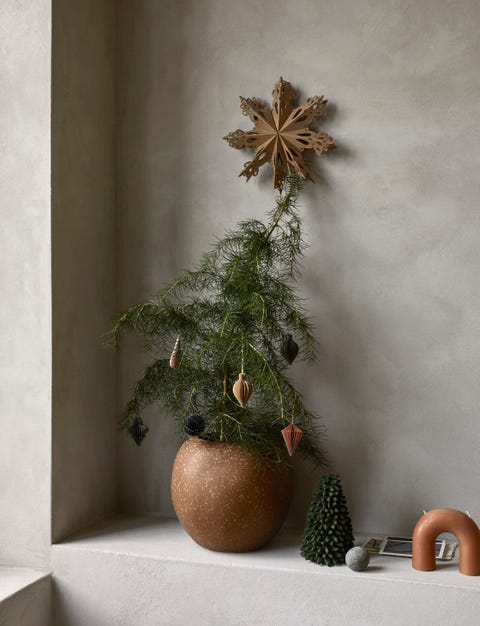 For a sustainable stance on Christmas trees, try potted evergreens, which look lovely whether decorated or left unadorned. Dot smaller specimens around the home for a pine scent that will pervade longer than a cut tree.
'Christmas Star', £18.90; 'Christmas Mix' decorations, £18.50 for a set of four; 'Pulp' tree, from £16.90, all Broste Copenhagen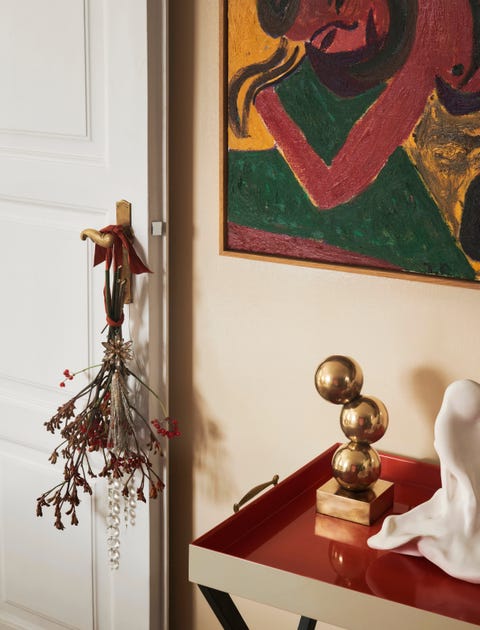 Bring a little yuletide cheer to the threshold of every room by tying a fragrant posy of foraged foliage or dried flowers around door handles. Attach with ribbon off-cuts and add a bauble or bell into the mix for extra twinkle.
For dried flowers, try Fox Flowers. For a wide selection of ribbons, try VV Rouleaux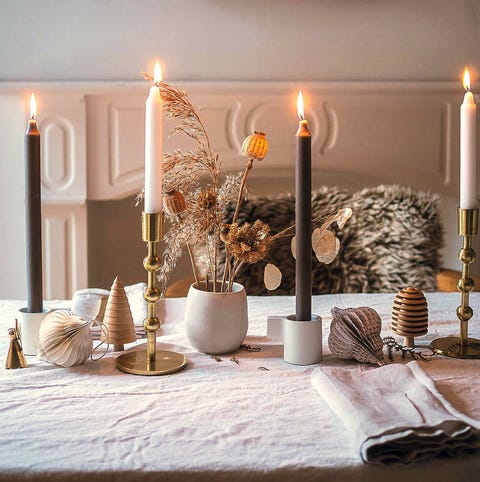 You don't need to buy new Christmas decorations every year. Dress the table with existing mismatched candlesticks, low vases, heirloom decorations and simple white table linen. For a cosy yet sophisticated yuletide touch, introduce candlesticks in different colours and display hand-picked dried flowers from your garden.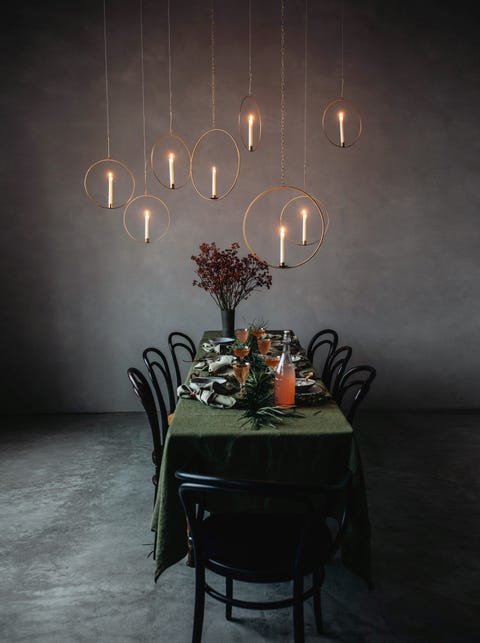 Any seasoned dinner party host will tell you that twinkling candlelight is a shortcut to atmosphere. For serious festive drama, try hanging candle holders at different heights over the Christmas table. Circular shapes in warm metallics will catch the light beautifully – even a single flickering flame will muster up a little extra magic.
Tablecloth, from approx £101, and napkins, approx £34, both in 'Jeep Green', Lovely Linen. For similar candle holders, try the 'Round Hanging Candlestand' by Madam Stoltz, £15.99, Trouva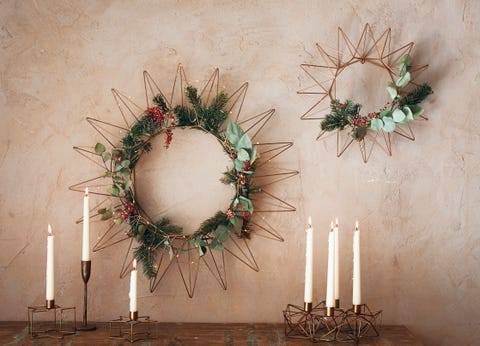 Though doors dotted with wreaths are a welcome sight as the festive period gets underway, it seems a shame for passersby to get all the pleasure. A picture hook above a sideboard will do just the job for an indoor wreath, and while a simple circle will always be a classic, geometric designs make an interesting framework for moss, fir or berries – simply fix with wire. Arrange two or three wreaths in a cluster for a high-impact display.
Small 'Talini' wreath, £32.50, and large, £49.50; small 'Mbata' candlestick in Antique Brass, £22.50, all Nkuku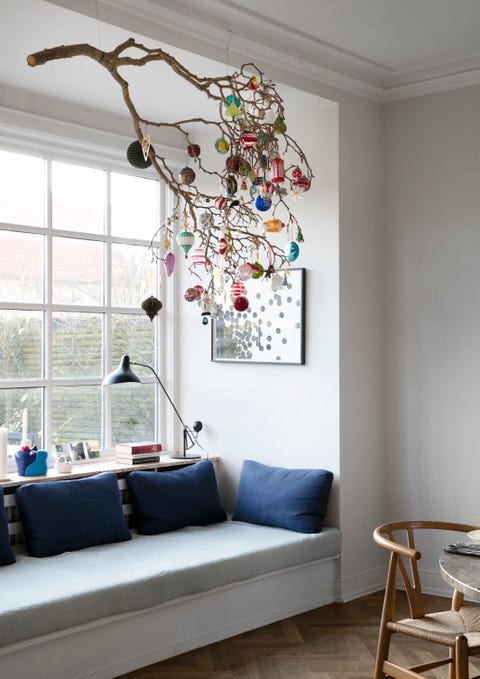 Dining tables and living rooms tend to take the starring roles when it comes to festive trimmings, but bestowing a bit of sparkle on those often overlooked areas you spend time in will spread the joy to every corner of the home. Ceiling- or wall-hung decorations are a good option for saving on space and can create real impact.
For an assortment of glass decorations, try Rockett St George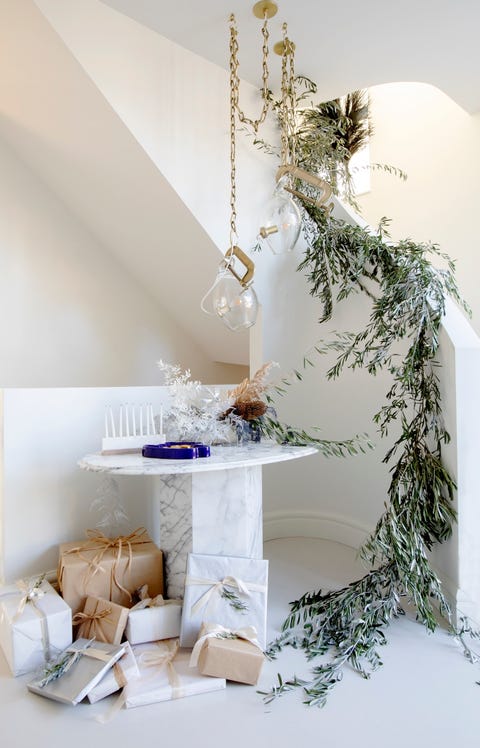 Under the tree may be the traditional spot for stacking presents, but when they're so beautifully wrapped, why hide them away? Make an abundant display of your packages and parcels and they'll double up as a decoration in their own right – just take care to coordinate your papers.
For kraft wrap and plain papers, try Paperchase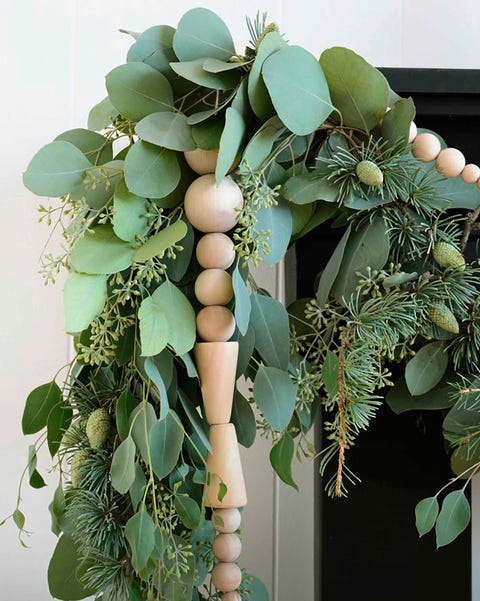 Introduce long-lasting scent and colour by hanging fresh, fragrant eucalyptus (or a realistic faux option) across the mantelpiece. Add a beaded wooden garland for extra texture.
For a similar beaded wooden garland, try Layered Lounge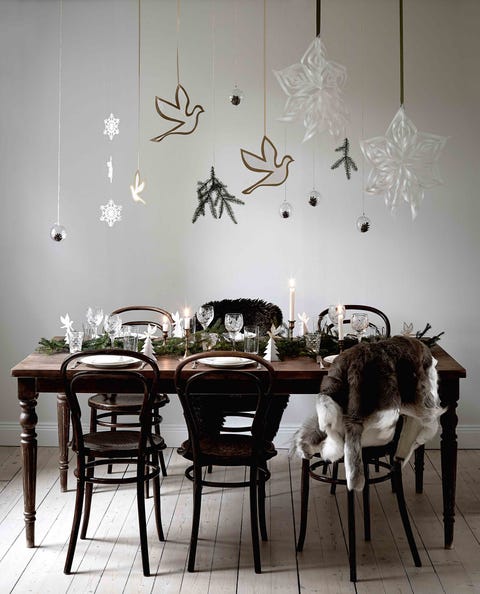 Handmade paper-cut snowflakes, single fir branches, dove decorations and glass baubles make for a whimsical display hung above a dining table. Tie at varying levels with string or ribbon for full effect and remember the lowest ones need to be above head height.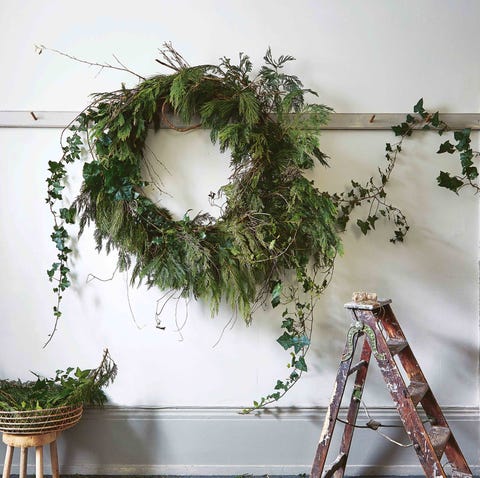 Kristen Peres/ Worm/ Quadrille
Get in the festive spirit by making your own wreath. For this loose and natural arrangement, use branches of fir and sprigs of ivy. You'll need a willow frame, floral shears and twine. Begin from the top and work clockwise, adding foliage with twine, focusing on one area at a time.
For DIY wreath frames, try floristrywarehouse.com or littlecraftybugs.co.uk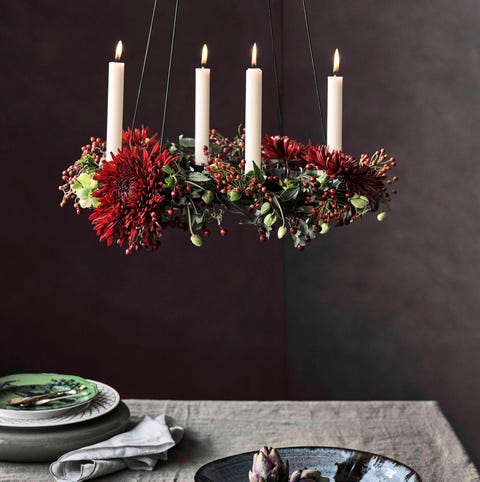 The atmospheric advent wreath originates from 19th-century Germany, when Pastor Johann Hinrich Wichern built one for children using an old cart wheel and candles, which he lit each day until Christmas.
Find a hanging kit at Manufactum
This content is created and maintained by a third party, and imported onto this page to help users provide their email addresses. You may be able to find more information about this and similar content at piano.io