We earn a commission for products purchased through some links in this article.
10 simply brilliant ideas for home offices
Achieving a work/life balance has never been more tricky than right now. These decorating tips could make all the difference…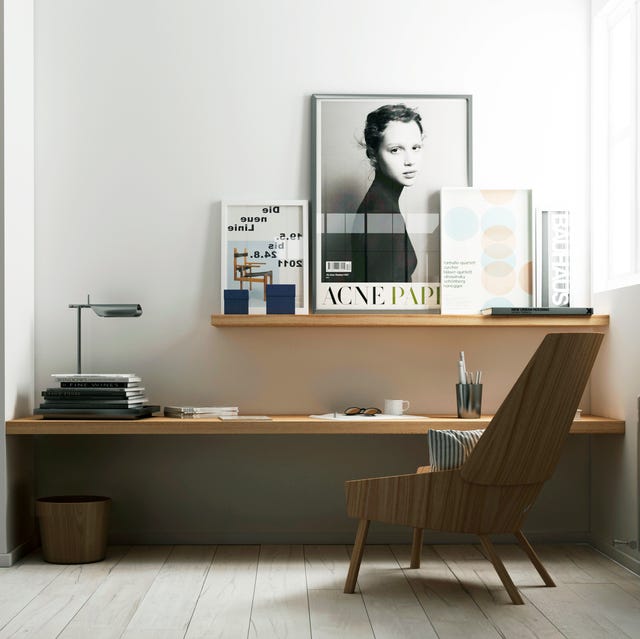 Working from home: it's the new normal. No slow, repetitive and expensive commute. No 6am wake-up calls. Lots of quality time with the family/cat/dog. Sounds like fun? Well, yes… and no. As a newbie home-worker, I am rapidly learning that there is a right way and a wrong way to do it. Before I started, old hands counselled me to a) never 'go to work' in my dressing gown and b) always make sure I sat in my office, rather than on the sofa with my laptop.
How right they were. Maintaining a sense of structure is crucial, which means your first step must be to create a dedicated workspace where you are happy to spend time. If at all possible, this should not be in your bedroom: maintain the distinction between work and rest. A separate room in a quiet part of your home is ideal. If you don't have one spare, install a bureau-style desk that you can fold away, or use a niche to store a desk that you can close behind doors at night.
When your home is your office, new strategies for switching off become essential for sanity. Other things that help include good light levels (that means daylight, as well as task lighting), a nice view (out of the window or towards an inspiring moodboard) and making an effort to replicate the camaraderie of a workplace with video calls – just make sure you change out of your pyjamas! Ground rules set, it's now time to style your new WFH haven, with our ten top tips and tricks…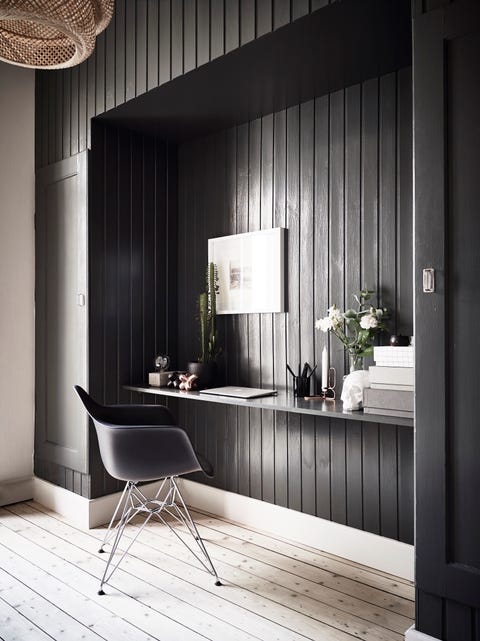 A floating shelf built into a quiet nook in your house makes a chic desk, with the added bonus of no legs to clutter the area. If you subscribe to the 'tidy room, tidy mind' school of thought, then try a simple, monochrome scheme. Note also the hard materials: not a soft furnishing in sight. Making your décor slick and non-cosy will inform your posture and mindframe that this is a site of industry, not a space for relaxing in.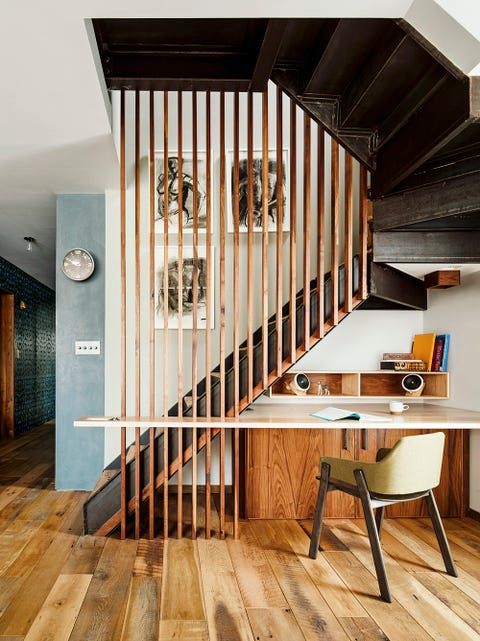 Joe Fletcher/General Assembly
Make use of 'dead space' under your staircase by slotting in an office, like New York design practice General Assembly has in this Brooklyn apartment. Genius ideas include the slatted wall that lets light filter into the study from upstairs and the way the desk wraps around it to create extra workspace.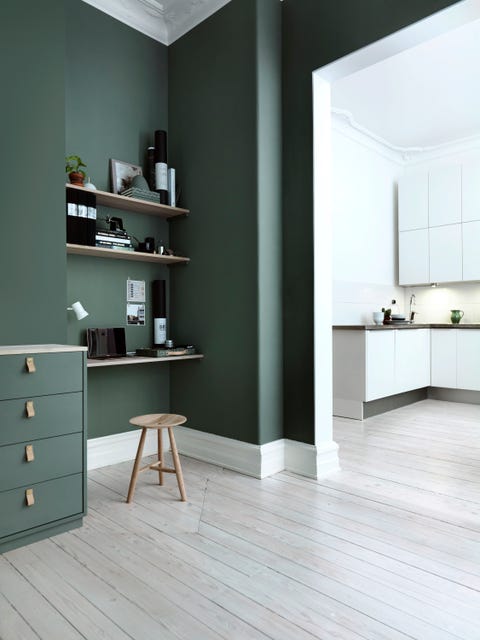 This unobtrusive study is the ideal space for part-time homeworkers to catch up on paperwork. It's wonderfully simple to create, too – simply build bookshelves and make sure you have enough plug sockets nearby. Swedish eco furniture brand Norrgavel uses a change in wall colour to mark out a work zone in this open-plan home.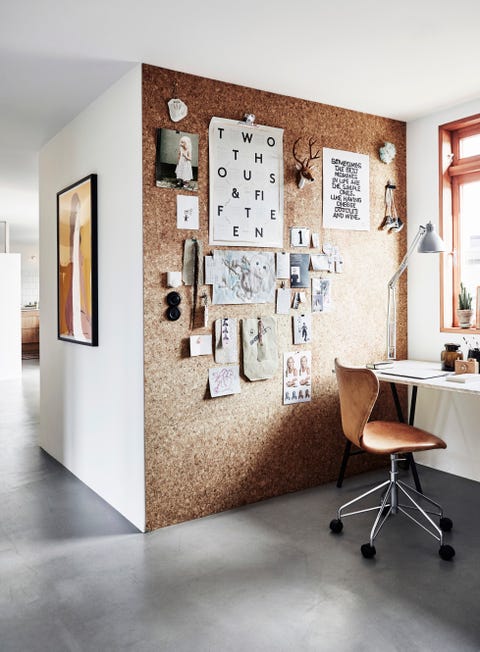 Petra Bindel/House of Pictures
Cork, as well as being a sustainable material, is also a stylish one. Take the pinboard idea further and clad a whole wall in it. Not only does it act as a moodboard, but it also absorbs sound, keeping your study peaceful. This wall is by Swedish cork expert Eslövs Korkfabrik, but try Cork 24 in the UK.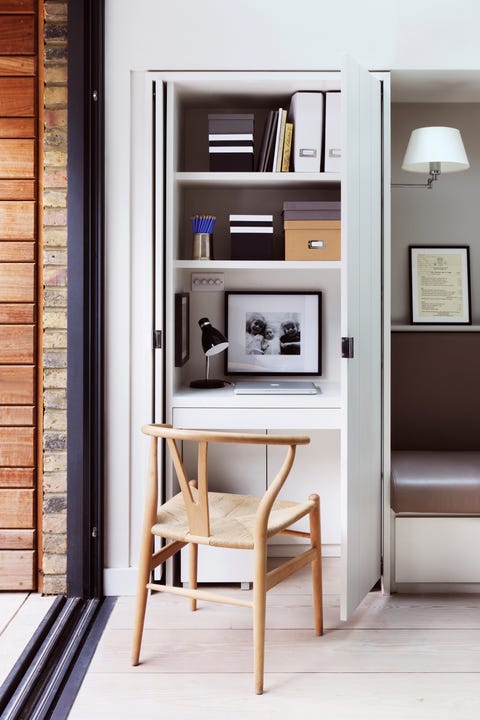 Short on spare rooms to covert into an office? Condense your clothing into a capsule wardrobe to free up space so that you can transform a built-in cupboard into a small but perfectly formed workspace. Paint the interior white to keep it light, or commission an electrician to put in a spotlight to save using precious desk space for a lamp.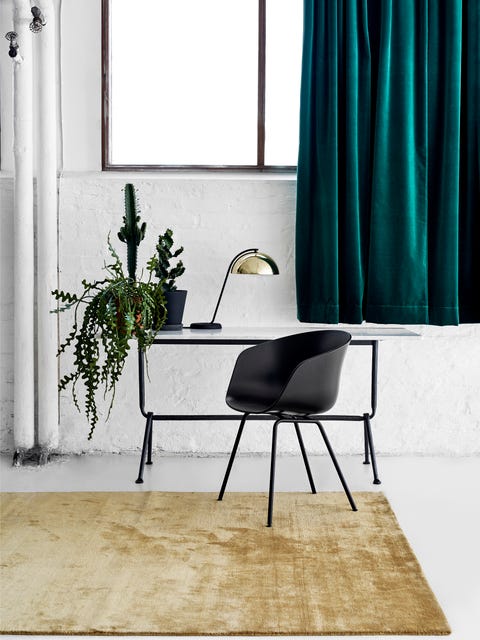 Lack of natural light is a classic complaint of office workers, so take advantage of being at home and put your desk in prime position beside a window. Add an element of luxury, such as these velvet curtains by Kvadrat, and foliage (a money plant seems appropriate) to transform a study area into a place you look forward to spending time in.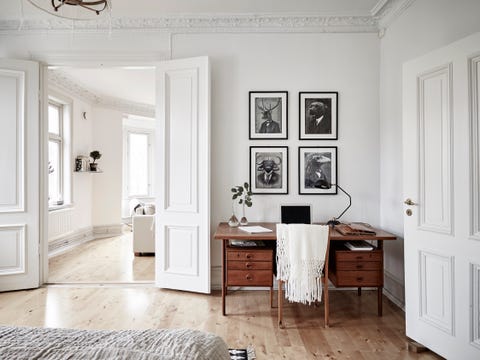 Your bedroom should be a sanctuary, so if you do choose to set up office there, be sure to maintain a calm environment. Keep your desk as clutter-free as possible (nobody wants to see unfinished work as they try to drift off to sleep). Hang artwork above your study area – it will provide much-needed distraction and daily inspiration.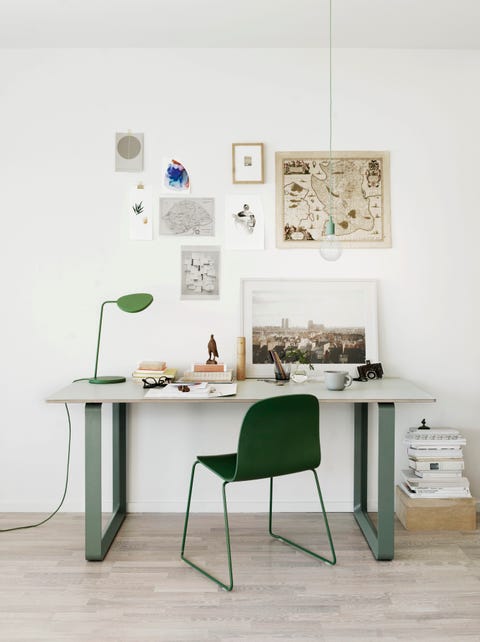 Want the relaxing effect of greenery, but without the pressure of keeping plants alive? Opt for a green and white colour scheme. Add a 'Fiber' side chair with sled base – popular for its sturdiness and supportive back – by Muuto, which also created the organically-shaped 'Leaf' lamp.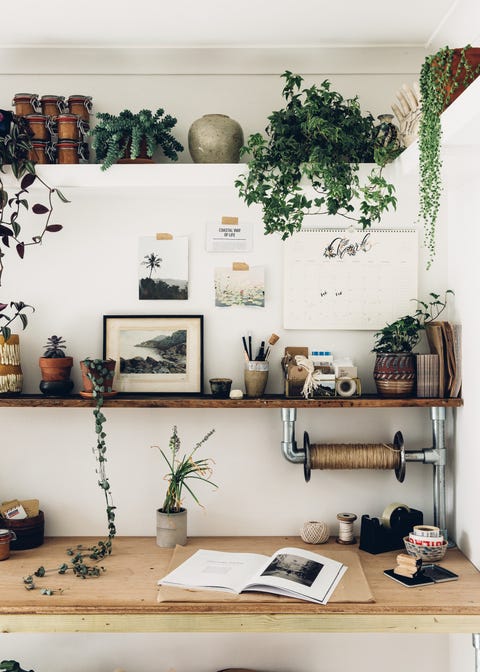 Reclaimed materials can make a characterful and affordable workspace. In this study belonging to the Sussex-based duo behind curated shop The Future Kept the desk is made from a local skatepark's surplus plywood, while the string reel was fashioned from parts of a clothing rail in an old walk-in wardrobe.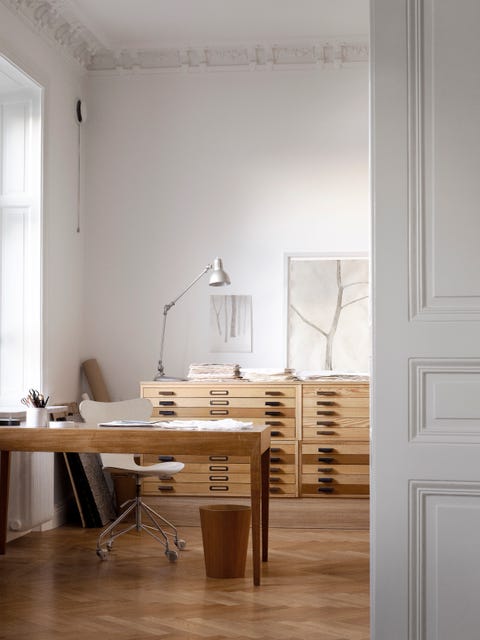 Retro furniture can be exactly what's required to give a modern home office some personality. With its large-scale map drawers for storage and a stylish wooden tailor's table that provides more space than the average desk, Swedish illustrator Mats Gustafson's office in Stockholm has the quiet, contemplative air of a museum or gallery.
This article originally featured in ELLE Decoration April 2018.
Like this article? Sign up to our newsletter to get more articles like this delivered straight to your inbox.
Keep your spirits up and subscribe to ELLE Decoration here, so our magazine is delivered direct to your door.
This content is created and maintained by a third party, and imported onto this page to help users provide their email addresses. You may be able to find more information about this and similar content at piano.io