Modern garden ideas to transform your outdoors
Whether you have a tiny terrace or acres of garden to play with, our inspiration gallery has something to get even the most reluctant of green fingers excited for that next big project…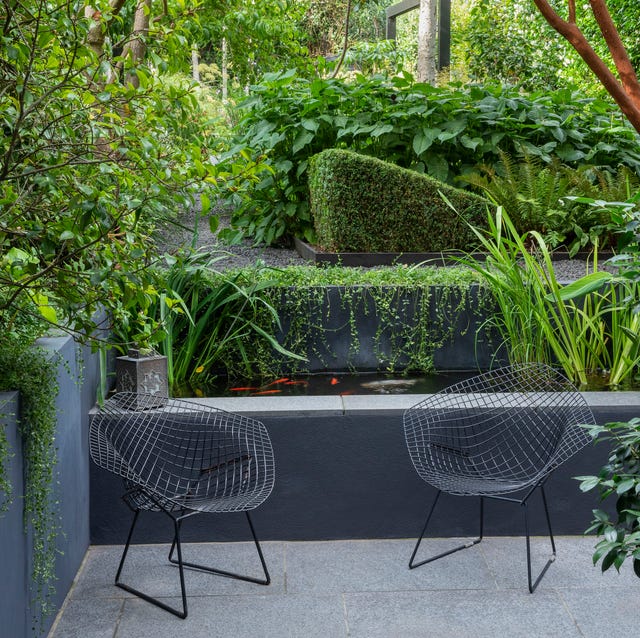 MARIANNE MAJERUS/DECLAN BUCKLEY
1
Create comfort outdoors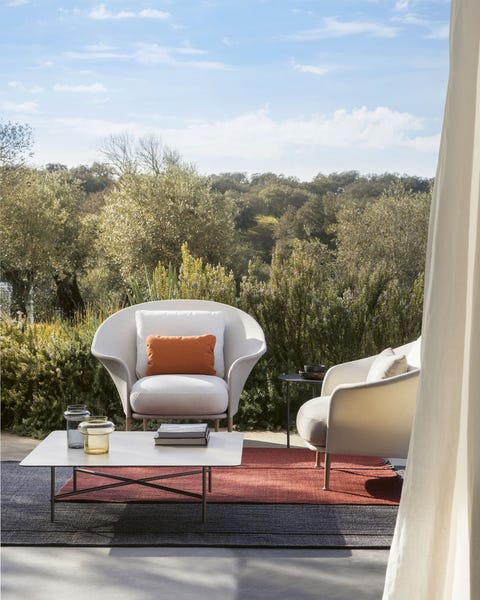 Advances in technical fabrics mean outdoor comfort is at last assured, without having to bring everything indoors every time a rain cloud threatens. So it's goodbye plastic chairs and hard wooden benches and hello properly squashy cushions and soft rugs just made for lounging in the sunshine – these 'Liz' outdoor armchairs are by Ludovica & Roberto Palomba for Expormim. For more ideas, see our guide to outdoor fabrics for garden furniture.

2
Turn an awkward garden layout into a virtue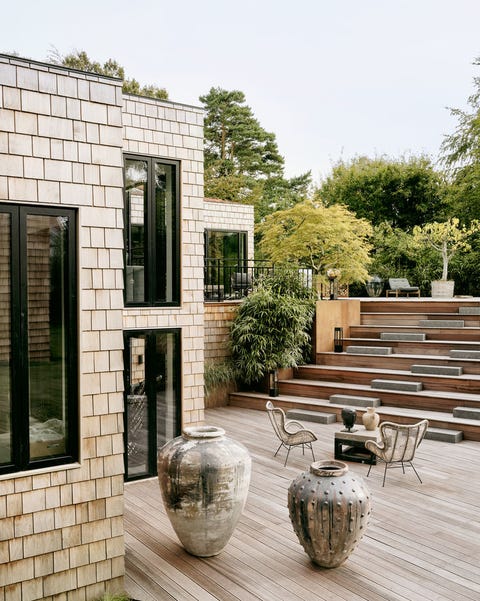 Gardens with level changes can sometimes be seen as problematic, but with a bit of thought they can add real interest. Don't just think of them as places for stairs and retaining walls – with clever planning, they can be much more. The garden of Danish fashion designer Naja Munthe was inspired by Roman amphitheatres. Its broad jatoba (Brazilian cherry) steps provide masses of informal seating for parties and gatherings. Read our guide to decking for more inspiration.

3
Make the most of a roof terrace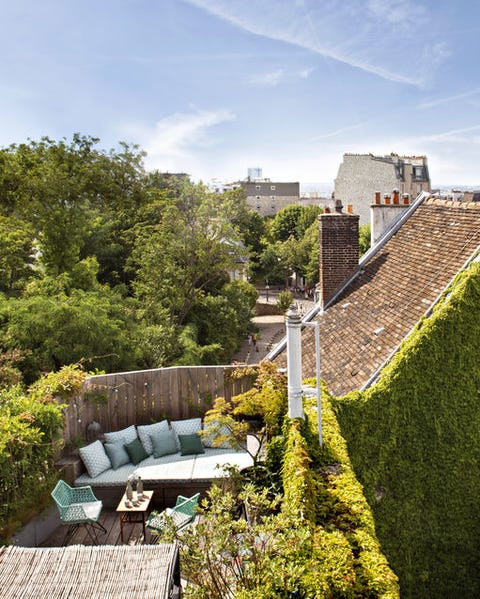 Some of the best designs arise out of constraints and a good garden designer will be able to see even the most unpromising roof space, light well or alleyway with new eyes. A roomy daybed is the focus of this dinky roof terrace in Montmartre, Paris. Using the same wood for the decking as the fence makes the space seem larger, while rampant climbers and a couple of small trees create the impression of a secret garden.

4
Add interest with a garden path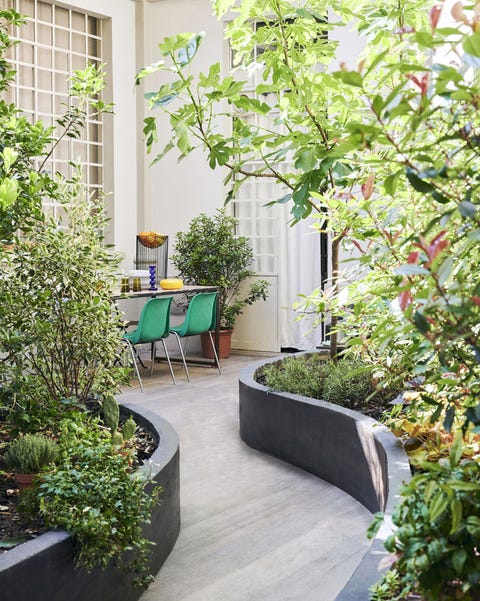 Valentina Sommariva / Living Inside
A journey in a garden – however small – is an important design device, leading you on and creating a sense of discovery as you progress. Curved paths work particularly well, as does tall planting, which can obscure or veil the space beyond or direct the eye to its final destination. A sinuous path between raised beds creates a playful feel in this garden by architect Francesco Stasi. Large shrubs and trees, including a fig, provide height and volume, with an underplanting of herbs adding scent and an invitation to pause.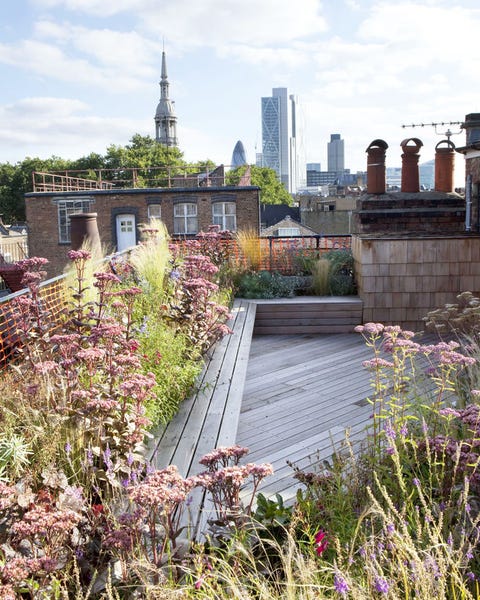 MARIANNE MAJERUS/SARA JANE ROTHWELL
Cedar wood decking and shingles unify this awkward shaped roof terrace by Sarah Jane Rothwell, founder of London Garden Designer. The soft, prairie-style planting has been chosen to withstand the hot, dry conditions of the exposed location and the wraparound bench provides copious seating without adding unnecessary clutter.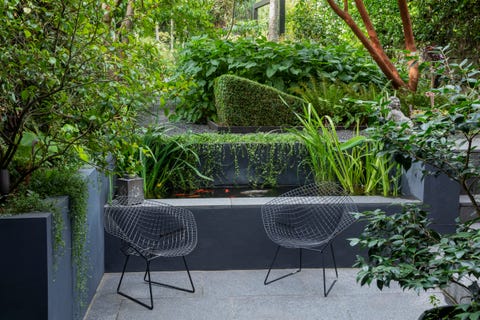 MARIANNE MAJERUS/DECLAN BUCKLEY
The best thing you can do to attract wildlife to your garden is to add a pond. Created by Declan Buckley of Buckley Design Associates, this design fits one into the retaining wall on a short run of steps. Relatively simple to create, it consists of rendered concrete blockwork, painted internally with a waterproof sealant.
7
Get big results from small gardens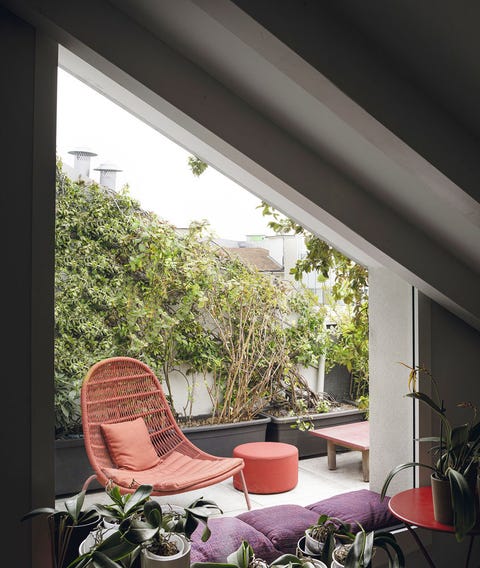 This tiny area by Ludovica and Roberto Palomba shows just how simply a garden can be achieved. Climbers in shallow planters (check with a surveyor that the roof can handle the extra weight) screen neighbouring buildings while pale flooring seems to enlarge the space.
8
Plan ahead for al fresco feasts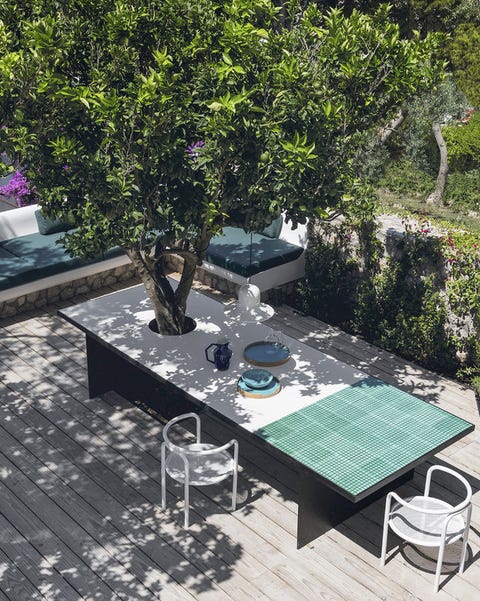 VALENTINA SOMMARIVA/LIVING INSIDE
Enjoying meals in full sun is not to everybody's taste. This inventive dining table uses a beautiful, mature tree as an in-built shade, and is large enough to keep the sun-worshippers happy, too. The tiled top is highly practical and provides endless options for customisation. Bespoke tables can be sourced from Bennington Metal Furniture.
9
Swap your garden decking for terrazzo
Parisian duo RMGB is behind this sparkling construction, which uses site-poured terrazzo (chippings of marble, granite and glass in a cement binder) for its beauty as well as its functionality. Ideal for inside/outside transitions, it is extremely durable and can be polished back to life should it ever start to look worn. Read our guide to terrazzo for more inspiration.
10
Invest in an outdoor kitchen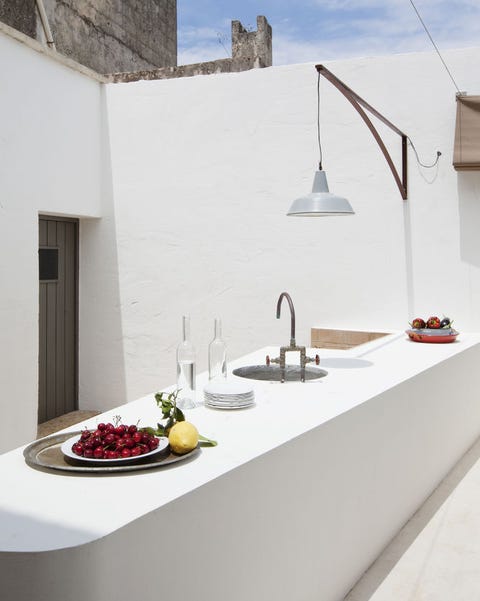 HELENIO BARBETTA/LIVING INSIDE
Move over barbecues, outdoor kitchens are on the rise. Sharp edges and clean lines are the secret to the success of this sleek design, painted white so as to minimise its impact in what is a relatively small space. A good outdoor kitchen should include a sink, cooker, fridge and waste bin – and don't forget lighting if you plan to use it after dark.
11
Don't forget the importance of shade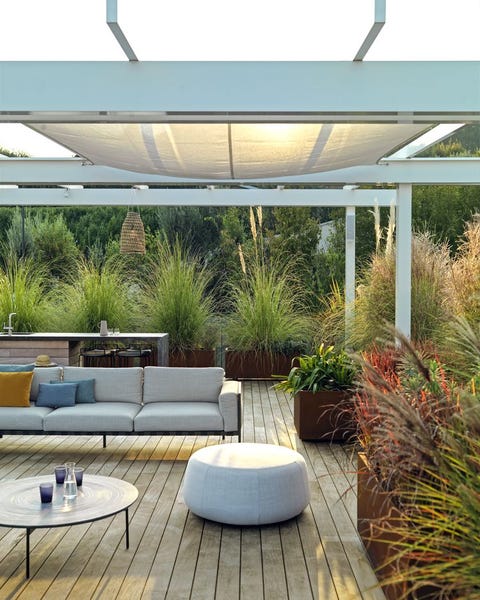 Thrilled as we are to see the sunshine, a bit of shade is always welcome. Options range from simple sails that can be attached to existing buildings or fences, to awnings, plant-covered pergolas and permanent pavilions. Whichever you choose, all will help zone your space. A large, permanent canopy structure is an integral device in this elegant terrace by interior designer Martina Hunglinger. For a similar canopy, try Kettal.
12
Design a truly indoor/outdoor space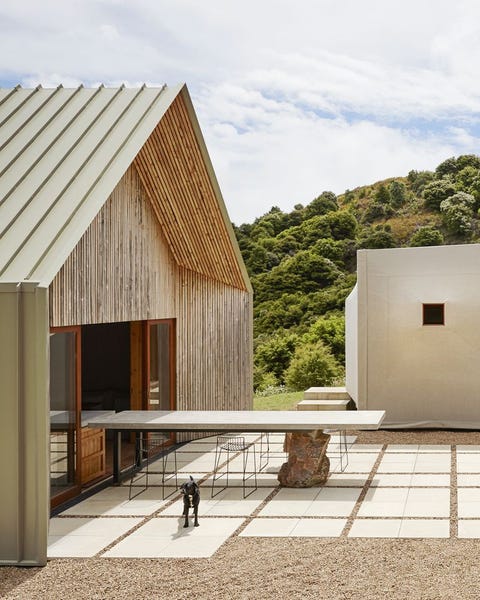 Kiwi outfit Cheshire Architects chose polished concrete for this oversized table which truly blurs the boundaries between in and out, being designed as an almost seamless extension of the kitchen worktop within. The support is a boulder of local stone, also used in the small retaining walls surrounding the courtyard.
13
Carve out a quiet corner in your garden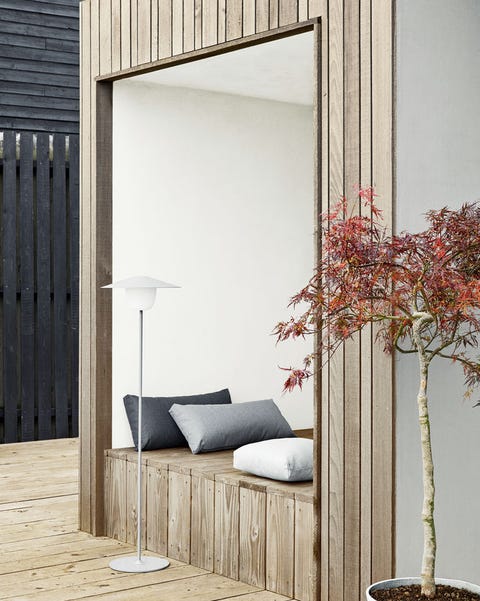 The desire to curl up on a window seat indoors and gaze upon the world outside has seen a boom in cantilevered windows recently. This idea turns the concept on its head, allowing you to be in the garden and free among the elements, while still being protected from them. Different widths of cladding on this simple shelter echo the decking, while the white interior reflects the light. 'Ani' floor lamp by Blomus.
This content is created and maintained by a third party, and imported onto this page to help users provide their email addresses. You may be able to find more information about this and similar content at piano.io