20 inspirational living room decorating ideas
Big living room refresh or easy lounge update? These projects will give you the confidence to get creative with paint, tiles, furniture, rugs and more…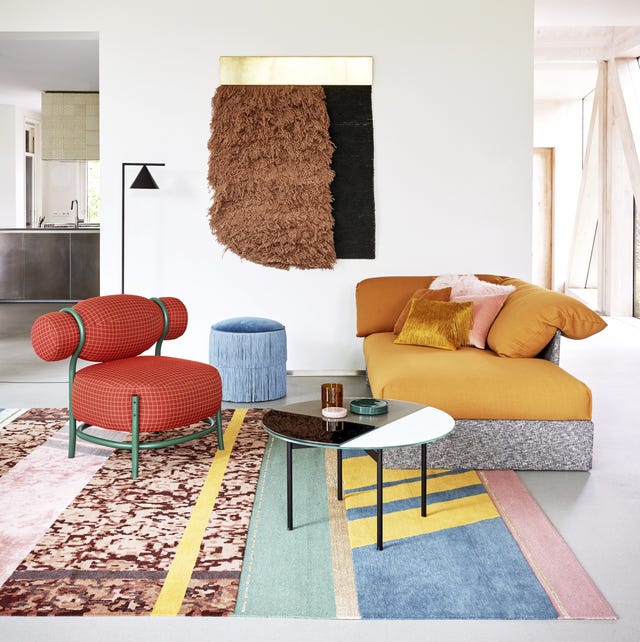 Life is for the living room, so it's time to turn yours into a space that truly reflects your personality. Whether you want some ideas to empower you to get inventive with colourful paint, striking wallpapers or even tiles (they're not just for the bathroom and kitchen!) we have just what you need.
Undertaking a major refurb? If you're looking beyond the living room, have a browse through our stylish kitchen ideas and all the bathroom inspiration you could ever want.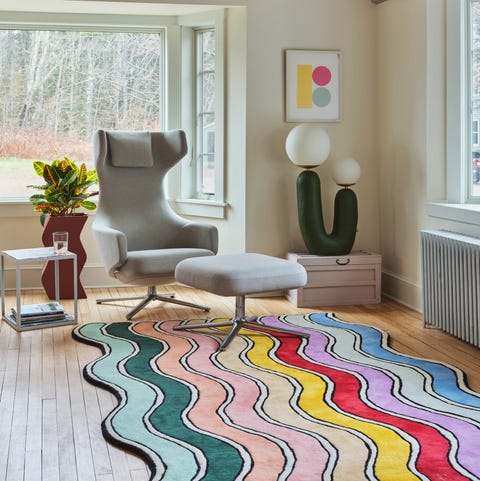 Your living room, above all else, should make you feel happy. And there's few things we find more joyful than a rainbow. This rug by Pieces in the Maine holiday home created for their lifestyling service An Aesthetic Pursuit is a quick and easy way to inject energy into a space without having to paint any walls.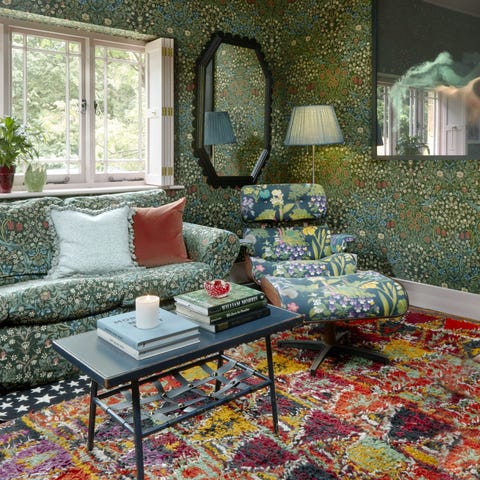 Why choose one floral, when you can clash several with confidence? This home, belonging to jeweller and judge of BBC's All That Glitters, is proof that by concentrating on complementary colours (in this case a verdant green) it is possible to pile on the pattern tastefully. As Solange says: 'it's about your own taste and what makes you happy'.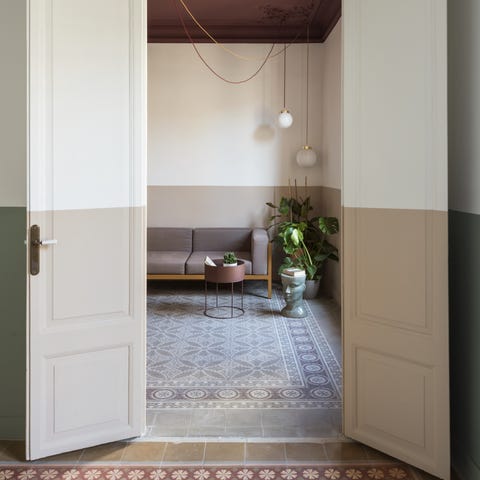 High ceilings and original features are blessings, but they can also be intimidating when it comes to decorating. By painting a low strip of colour around the walls and door in this living room, CaSA, the architects behind the renovation of this Barcelona apartment wrap the furniture in a warm embrace and create a cosy feel.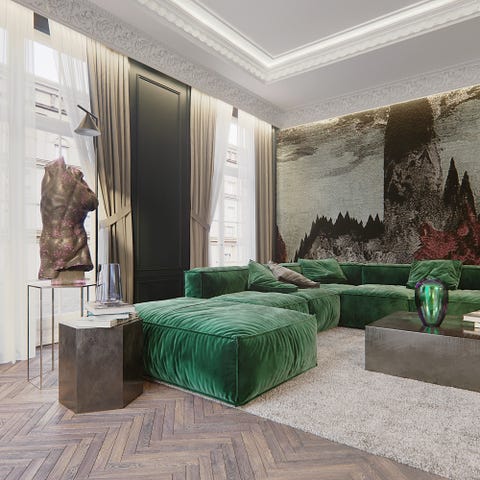 You can give even a blank canvas of a home a welcoming, heritage feel by concentrating on texture and pieces with a personal story. In this apartment by Ukrainian design studio Rosko Family Design, the tapestry – a reimagining of a vintage work passed down within the owner's family for generations – has a pleasingly tactile quality.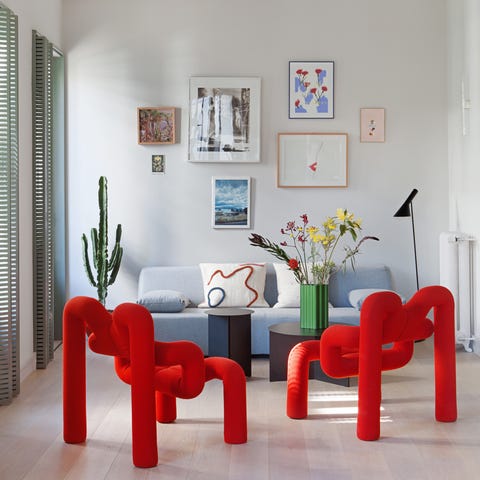 Decorating for small living rooms doesn't have to mean thinking small. In this Madrid home by architecture firm Plutarco restrictions in size were met with a joyful decision to go big when it came to colour. It only takes a few key pieces, like these 'Ekstrem' chairs by Terje Ekstrøm, to transform what could be a bland space into a memorable one.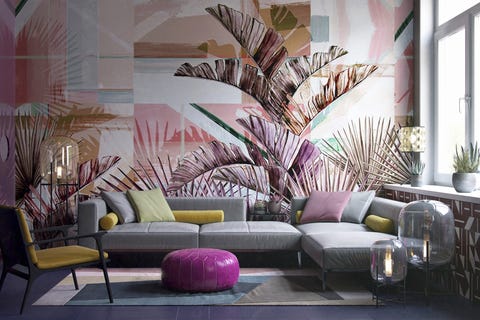 Murals are a playful way to instantly add personality to a space. Interior designer Daria Zinovatnaya has chosen the striking abstract pattern of Wall & Decò's 'Floridita' by María Gómez García for this contemporary living room, pairing it with light, elegant pieces that bring an element of calm to the oversized foliage and Miami-inspired colours. The aim is to allow the wallpaper to be the star.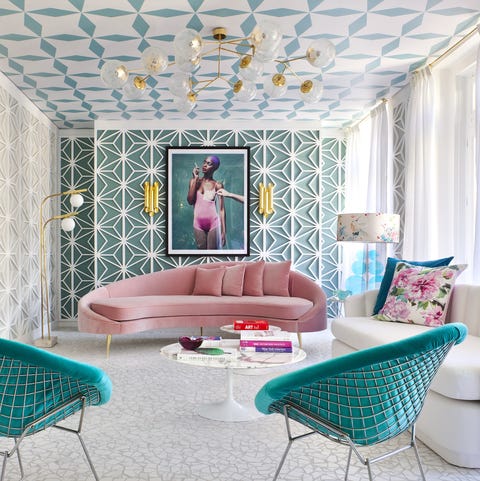 When devoting an entire room to pattern, colour is key. Every surface in this striking living room is covered in a different geometric design, with the walls and floors married only by their shared palette of turquoise and white. By restricting themselves to these two shades, Spanish interior design brand Miriam Alía Studio was able to exercise complete freedom in all other choices. The result is a living room buzzing with energy.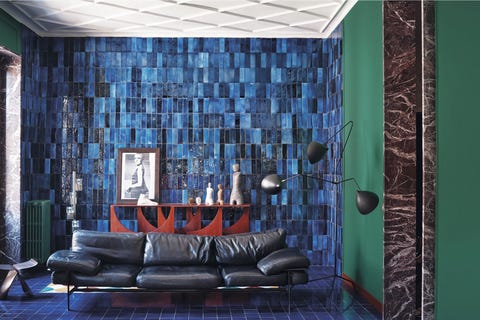 Tiles are no longer just for the bathroom or kitchen. Whereas hard surfaces would once have been considered a practical but cold choice, now tiles with richly coloured glazes, intricate patterns and unusual shapes are an attractive alternative for stylish living rooms. Architect Hannes Peer used floor-to-ceiling enamelled terracotta tiles in cobalt from Fornace Bernasconi to bring an ocean-like shimmer to this space.
9
Make a feature of high ceilings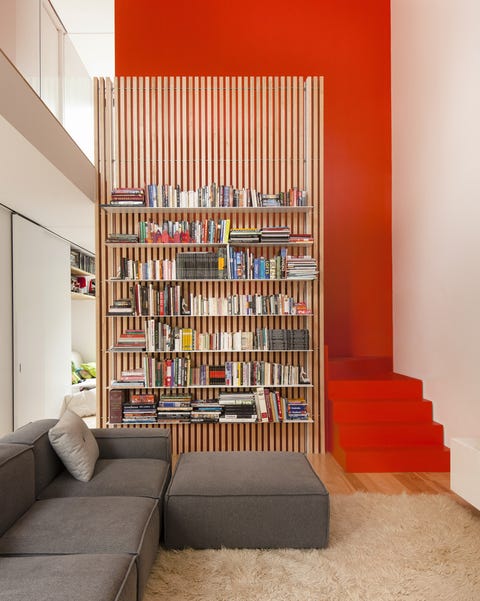 Where high ceilings are involved, think about decorating upwards. This interior by Montréal-based practice La Shed Architecture makes the most of the room's height with an elongating stripe of Benjamin Moore's 'Outrageous Orange' paint. The coordinating stairs lead into the living room creating a sculptural effect.
10
Combine statement furniture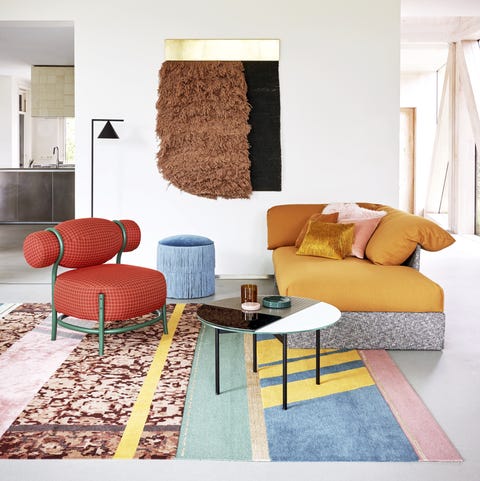 Why restrict yourself to one standout piece of furniture? Create a confident explosion of colour by adopting a pick and mix of your favourite designs. The bold palette of Dimore Studio's 'Paralleli B1' rug for Golran sets the tone, with its vivid stripes pulling together the bright red and green of Lucidi Pevere's 'Chignon' chair for Gebrüder Thonet Vienna and the mustard hue of the small 'Highline' sofa by Sebastian Herkner for Linteloo.
11
Take inspiration from art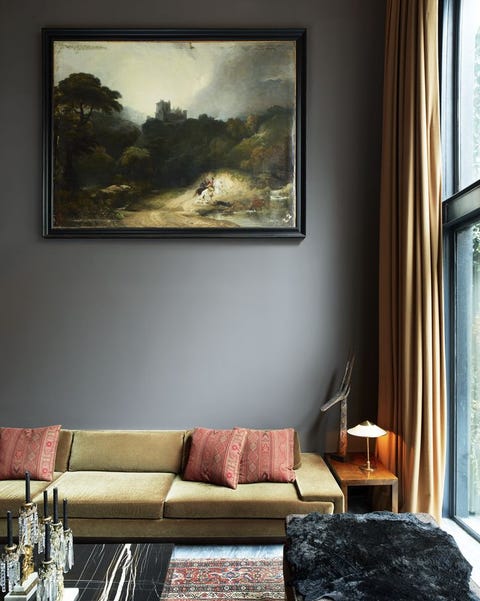 This moody living room by Uruguayan designer Fernando Santangelo takes its inspiration from art. Muddied shades of olive, midnight blue and charcoal paint echo the landscape in the 19th-century Old Master-style canvas on the wall. The scheme's completed with a velvet sofa – try the 'Elsa' in 'Ochre', available at The Conran Shop.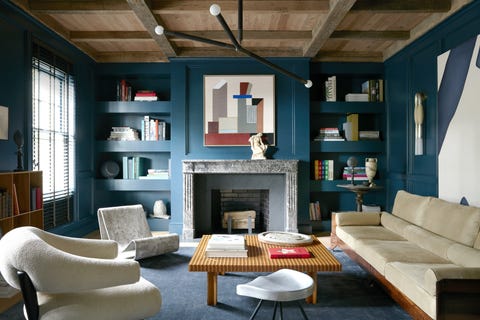 Stephen Kent Johnson / OTTO
Weaving several historic styles into the design of your living room ensures a curated, well-rounded atmosphere. In this home, New York-based architectural and interior designer Giancarlo Valle lets the 18th-century timber ceiling anchor a look that nods to mid-century design and the contemporary. Modern paintings by Nathalie Du Pasquier and Landon Metz decorate the deep-blue walls, while the furniture is a mix of classics.
13
Create a calming palette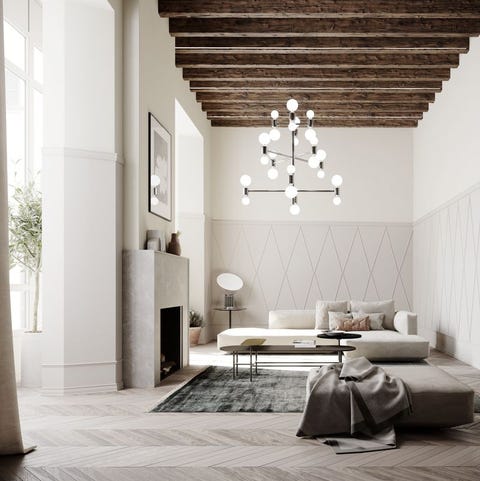 Turn your living room into a zen retreat with a palette of textured, layered shades of white and cream. Stockholm-based studio Whyte Lilja complements natural tones with shapely pieces, such as Zanotta's 'Pianoalto' sofa, Jaime Hayón's 'Palette JH7' coffee table for &Tradition and an 'Aballs' chandelier for Parachilna.
14
Take your cue from the 1970s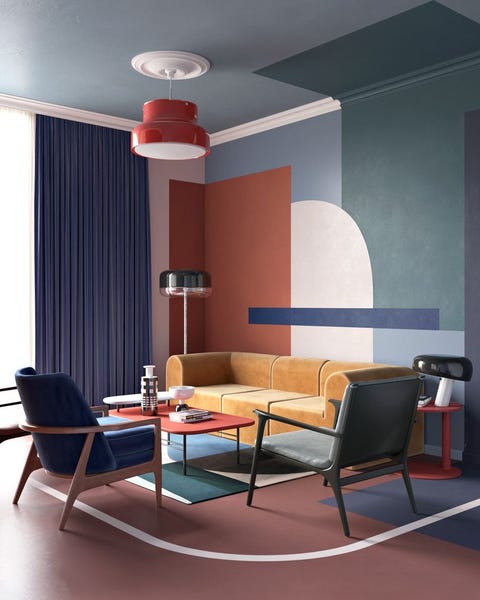 The colours of the 70s are having a real moment in the decorating world, but this fantastical living room takes the trend a step further. Its creator, Russian designer Daria Zinovatnaya, shows how being confident enough to play with colour and shape can really pay off, creating a statement mural that covers not just the walls, but the ceiling and floor too.
15
Make an architectural statement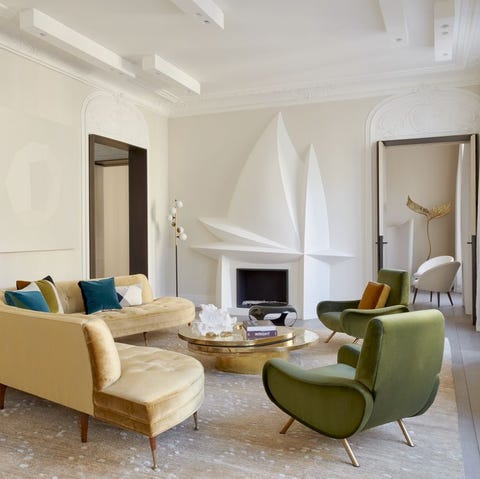 Sometimes one well-considered architectural flourish is all you need to up the drama. The sculptural fireplace in this living room acts like an artwork, creating a real focal point. French studio Damien Langlois-Meurinne juxtaposed the sweeping lines of the bespoke plaster surround with softly curved classic furniture, from 'Lady' armchairs by Marco Zanuso for Cassina to a Vladimir Kagan sofa and a vintage brass coffee table by Armand Jonckers – try 1st Dibs.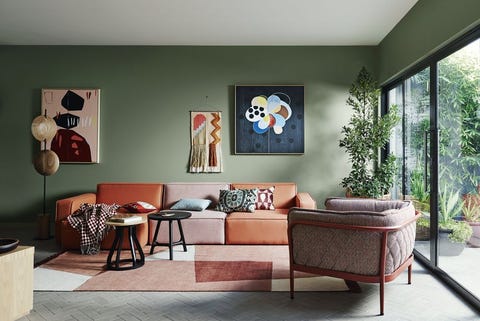 With herb coloured walls (for a similar colour, try Dulux's 'Willow Tree' or 'Fresh Sage') this room evokes a sense of serenity. Calm needn't mean plain, though. The addition of a peach and salmon pink sofa, patterned cushions, bold artworks and a graphic rug – available at Halcyon Lake – make sure this is a space that invigorates the imagination as well as relaxing the mind.
17
Perfect your arrangement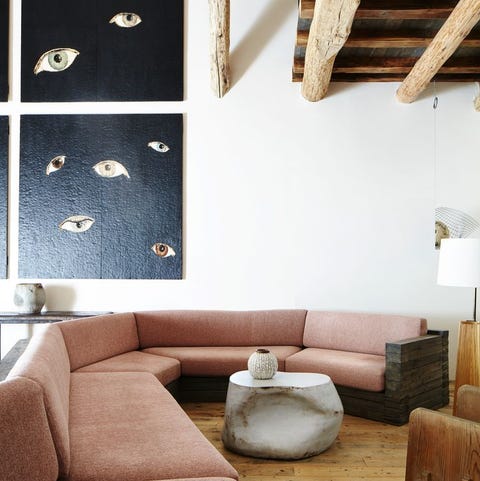 Let your sofa shape your space. This bespoke pink perch snakes through the living room in a farmhouse in Provence, converted by Parisian interior architect Pierre Yovanovitch. For a similar sofa, we suggest the 'Arcolor LH' by Jaime Hayón for Arflex from Aram. The 'squashed' ceramic coffee table is by French craftsperson Armelle Benoit.
18
Choose colour that suits your mood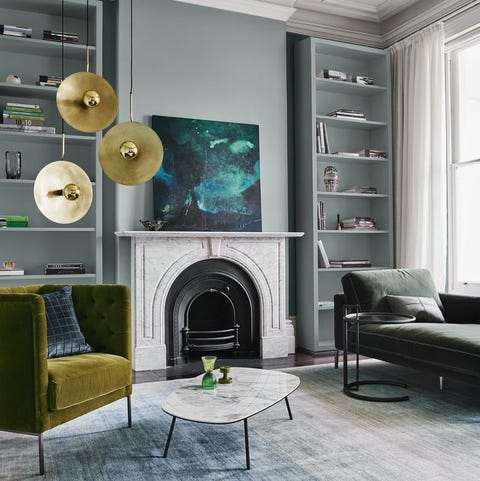 Greens, greys and blues should be your go-to colours if you are trying to create a sense of tranquillity in your living room. Painted 'Goyder Green' by the Australian arm of Dulux paint ('Mint Macaroon' is a good alternative in the UK), this room is a perfect example of how a lick of paint can change the mood. Note how the 'Tweet' coffee table by Gino Carollo for Calligaris matches the marble fireplace.
19
Decorate in a wabi-sabi way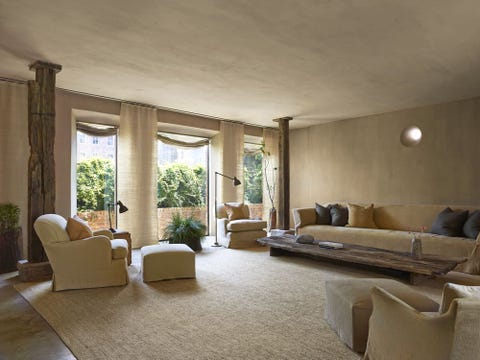 Designed to adhere to the fundamentals of Japanese aesthetic wabi-sabi, this living room in the Tribeca penthouse at New York's The Greenwich Hotel embraces modest design and the imperfection of natural materials. Make like its creators, Belgian interior designer Axel Vervoordt and Japanese architect Tatsuro Miki, and leave limewashed walls unadorned, wood untreated and flooring simple.
20
Don't forget the carpet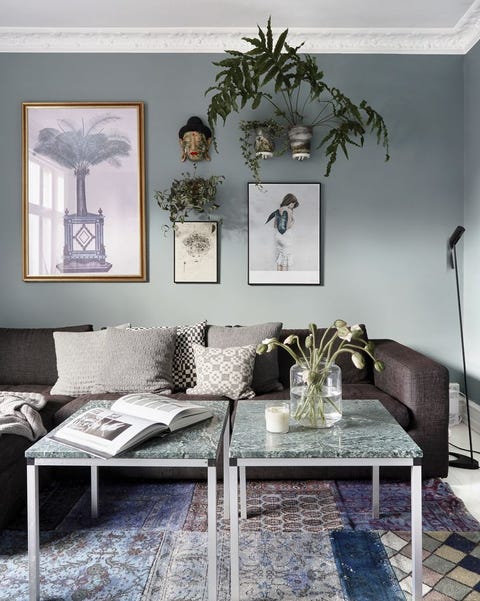 Comfort begins beneath your feet, and Thilde Santin, who added this charming patchwork carpet to her home in Copenhagen, knows this better than most. Get the look by layering vintage and new Berber rugs by Larusi or colourful, affordable options from Habitat to create your own version of this creatively cosy idea.