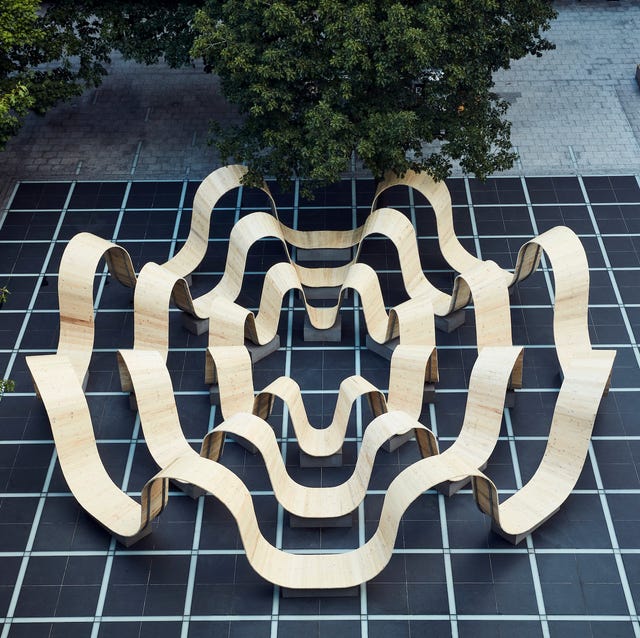 As the London Design Festival hits town it can be impossible deciding what to see. We've selected the hits and the highs across the capital that are must-sees during this 8-day whirl of design, colour and creativity...
1
'Prototypes' by M.A.H. and dellostudio
Recently launched art hire service Modern Art Hire (M.A.H.) is launching its first foray into furniture in the form of a collaboration with interdisciplinary design duo, dellostudio (a partnership between Sicilian designer Oscar Piccolo and Paris-based designer Charlotte Taylor). Called Prototypes, the collection of one-off pieces channels Greek and Roman architecture mixed with a playful Flintstones-like aesthetic. The series of four chairs, a dining table, coffee table, screen and shelving unit will be displayed alongside a host of newly commissioned pieces by various M.A.H artists. 14th-22nd September, 2b Vyner Street, E2
2
Uruguay at London Design Fair
London-based Uruguayan designer Matteo Fogale has curated a showcase of talent from his home country at the London Design Fair. Each of the nine contemporary studios chosen to participate have been asked to interpret a poem by one of the country's most renowned creatives, poet Juana de Ibarbourou. Highlights include playful ceramics by Estudio Claro and coffee tables by Muar. 19-22 September, Hall 3, London Design Fair, Old Truman Brewery, E1
3
Aram Store celebrates Bauhaus
In honour of Bauhaus' centenary, Aram Store presents classic designs from the era, now produced by German brand Tecnolumen, and contemporary work influenced by the design school from Berlin-based brand New Tendency, which was founded by Bauhaus graduate Manuel Goller. Also, don't miss Aram Gallery's exhibition by Rotterdam-based Studio Truly Truly, which explores ideas for the living spaces of the future. 14-28 September, 110 Drury Lane, WC2B

4
Design & Dine supperclub
Danish design brands Hay and &Tradition are teaming up to host a five-night supper club at their pop-up London townhouse. Guests can settle in and view the very latest furniture, lighting and accessories, while enjoying autumnal dishes and nordic inspired cocktails created by London chefs, the Dinner Ladies. Styling duo Keays & Kempton have worked their magic on the space, transforming it from gentleman's club into a sophisticated Scandinavian space using a combination of mid-century classics and contemporary design. You can also visit during the day, pre-booking for the three-course dinner (£45) required via tickettailor.com. 17-21 September, 34 Queen Anne's Gate, SW1
5
Hauser & Wirth at The Conran Shop
Renowned gallery Hauser & Wirth will bring a treasure trove of limited edition artworks and designs by its stellar roster of artists to The Conran Shop, Marylebone this LDF. Installed in the windows of the store, an array of collectibles will be on offer, including pieces created and inspired by Alexander Calder, Louise Bourgeois and Paul McCarthy – expect prints, skateboards and decorative plates as well as artist-designed jewellery, scarves, games and stationery. 14–22 September, 55 Marylebone High Street, W1U
6
'Please be seated' by Paul Cocksedge
From above this landmark project resembles a flower, while from street level the scaffolding planks that make up this installation in the City will rise above pedestrians like great wooden waves. Created by British designer Paul Cocksedge (who collaborated with interiors company White & White), commissioned by Broadgate and supported by property company British Land, the piece provides passersby a place to sit or seek shade. 'It walks the line between craft object and design solution,' he tells us. 14 September-11 October, Finsbury Avenue Square, EC2M
The east London showroom will host new pieces by designers Philippe Malouin, Jason Miller, Donna Wilson, Floris Wubben (pictured) and Sarah Kay. There's also a preview of Jasper Morrison's new Raami collection for Finnish brand Iittala, shown alongside the designer's most iconic collections. Don't miss ELLE Decoration Editor Ben Spriggs in discussion with some of the designers on the subject of 'The Landscape of Design' on 18 September, 3pm. 135–139 Curtain Road, EC2A. scp.co.uk
8
'Bamboo Ring' by Kengo Kuma at the V&A
Sculpture fans: march straight to the V&A. Japanese architect Kengo Kuma – who designed V&A Dundee – is filling the John Madejski Garden with his 'Bamboo Ring', highlighting the pliancy, precision and sustainability of the material. 14–22 September, Cromwell Road, SW7
9
'Lunar House' by Lara Bohinc
Jewellery designer turned furniture and product designer Lara Bohinc brings us The Lunar House. The pop-up – her first solo exhibition – will include new designs such as the Jupiter vase and Juno boxes. Named to celebrate the 50th anniversary of the moon landings, she will also show pieces from Planetaria and her collaboration with Kasthall. Housed in a Victorian townhouse in King's Cross Design District, expect a sensory experience with a soundscape from Pandora's Jukebox and olfactory delights from Perfumer's Story. 16-21 September, part of the King's Cross Design Trail, address upon request from press@bohincstudio.com
or contact@rixnerpr.com

10
'Masters of Disguise' at SEEDS Gallery
This entertaining and thought-provoking project, part of the Brompton Design District, is curated by Venice- and London-based M-L-XL Studio explores the theme of Nature/Nurture by exhibiting the work of 20 key contemporary artists and designers who were tasked with interpreting their individual identity - their 'human nature' - in the form of a mask. See what the likes of Martino Gamper, Bethan Laura Wood, Jochen Holz, Kim Thome, Bertjan Pot, Sabine Marcelis and Nathalie Du Pasquier make of themselves in design form. Participants also contributed an array of homewares for the exhibition. 14-22 sept and then until 15 October by appointment only, 35-36 Thurloe Place, London, SW7. seedslondon.com
11
'Crossovers' by Adorno at the London Design Fair
Organised by local curators, Adorno is a virtual treasure trove that offers a direct link to designers. Presenting new initiative 'Crossovers', the network uses its connections to curate 11 exhibitions coordinated by country, aiming to start a wider conversation about cultural heritage. 19-22 September, Old Truman Brewery, 91 Brick Ln, E1. ELLE Decoration's Bethan Ryder will chair a discussion on 20 September, 7pm, the Institut Français, 17 Queensberry Place, SW7. institut-francais.org,uk
12
'Void' by Dan Tobin Smith + The Experience Machine in partnership with Gemfields
This colourful multi-sensory immersive experience by photographer-turned-designer Dan Tobin Smith features large-scale projections that showcase the space inside gemstones. Mozambican rubies and Zambian emeralds from Gemfields' mines are being brought to life through photography of tiny microcosms magnified to become galaxy-like superstructures. And if that isn't enough, head there on Sunday 15 September or Wednesday 18th September to hear the female electronic drone choir, NYX, fill the Void with human voices. 14-22 September, Collins Music Hall, 11 Islington Green, N1

13
'Ad Infinitum' by Sella Concept at The Conran Shop
Brompton Design District is always worth a wander during LDF. In-demand studio Sella Concept's display for The Conran Shop's flagship store will showcase Conran products in a futuristic world of floating walls, mirrors and negative space. The aim: to start a conversation about contemporary consumerism. 14–22 September 81 Fulham Road, SW3
A barbershop with a difference, this moody, monastic setting has been designed by men's grooming brand Harry's and Tom Dixon's Design Research Studio for LDF. Geared towards being as much a hang out as functional space, there will be drinks and cocktails served alongside hot shaves by Pall Mall Barbers, plus a DIY assembly line set up where guest's can create their very own Harry's razor. Meanwhile Face Gym will offer facial workouts. It's all part of the TouchySmellyFeelyNoisyTasty exhibition taking over The Coal Office this week. 14-22 September, The Coal Office, Arch 10, 1 Bagley Walk, N1
15
Associate Prize at The London Design Fair
The London Design Fair team has awarded two talents from the annual New Designers London showcase a much-coveted stand. Coming out on top is The Sit Still Studio, which crafts playful pieces in Wales using organic sheep's wool and local ash, along with Italian start-up High Society, whose sleek plant-based lighting is a brilliant lesson in sustainable design. 19-22 September, Old Truman Brewery, 91 Brick Ln, E1
Trust lively designer Camille Walala to shake up a well-to-do Mayfair thoroughfare. The 'Walala Lounge' will transform South Molton Street into a corridor of colour, adding a series of 11 sculptural seating areas and rows of bold, colour-block bunting. Translating the French artist's striking patterns into three dimensions, each cartoonish perch brings a little unexpected pleasure to this pedestrian avenue. 14–21 September, South Molton Street, W1K
17
'Kaleidoscopia' at Lee Broom
British talent Lee Broom knows how to put on an Insta-friendly show, and his latest lighting installation 'Kaleidoscopia' promises a total transformation of his Shoreditch showroom. Enter to discover a reflective space, featuring his popular 'Orion' pendants, new pieces and a series of striking optical illusions. 17–22 September, 95 Rivington Street, EC2A
18
'Never Lost' by Emily Forgot for CitizenM
There's always something to spot outside citizenM's Shoreditch outpost and, this year, artist and designer Emily Forgot – best known for her series of architectural 'assemblages' – has installed a vibrant maze at the hotel's entrance. Named 'Never Lost', it's a playful interaction of the physical and fantastical. 14–30 September, 6 Holywell Lane, EC2A
19
'Life Labryinth' by Patternity
Fans of Patternity will recognise the monochromatic mastery of co-founders Anna Murray and Grace Winteringham in this installation, which is taking over the piazza outside Westminster Cathedral. The modern-day maze – a graphic take on the cathedral's distinctive brickwork – includes wild grasses and flowers, forming a serene space in bustle of the city. 14-22 September, Westminster Cathedral Piazza, SW1E
An experiential eco log house, curated by Hemlo founder Hanna Laikola as part of exhibition 'A Sense of Finland', is just one of the many ways that over 400 creatives are celebrating 100% Design's 25th anniversary. The Material Studio makes its debut, Benchmark introduces the 'Sage' furniture range from American architect David Rockwell, and seven designers – including Duncan Campbell and Suzy Hoodless — will curate a selection of their Instagram snaps to explore its influence on the design community. 18-21 September, Olympia London, W14
21
'I-Made' at Saatchi Gallery
Italian design maestro Giulio Cappellini turns Chelsea's Saatchi Gallery into Little Italy for the 'Italian Manufacture, Art and Design Exhibition'. The four-day event features talks, workshops and collections by the big guns of Italian design – Living Divani, Moroso, Poltronova and Luceplan to name just a few – as well as 'Take a Seat', Cappellini's showcase of the pieces that have shaped the history of chair design. 19–22 September, Saatchi Gallery, Duke of York's HQ, King's Road, SW3
Launching with a pop-up, this furniture brand is the brainchild of Jehanara Knowles, who grew up between New Delhi and London. By reimagining traditional craft techniques through a contemporary lens, she shines a light on modern Indian design. 17–22 September, 30 Redchurch Street, E1. kamcekam.com
23
The designjunction at King's Cross
This well-established show offers a blend of big names, emerging talent and shopping opportunities. Under the theme of '(Re)act', over 200 exhibitors – including Steuart Padwick, Very Good & Proper, and newcomer Brook Studio – provide plenty to inspire. At Cubitt House you'll find cutting-edge furniture and lighting from more than 100 companies, meanwhile Canopy Market is where you can shop from a variety of art, design and homeware brands, and don't forget to pop in on Tom Dixon Studio. You can rest your feet at the ELLE Decoration Café too, where on the weekend of the 21st-22nd you can collect a voucher to redeem offers from selected brands. Look out for the tags on participating stands. T&Cs apply. What's more, ELLE Decoration readers can buy Designjunction tickets at 50% off the normal entry price. To claim your discount, use the code 'DJ1100' at the checkout when buying. 19–22 September. thedesignjunction.co.uk.
Head to the Redchurch Room where the Stockholm-based brand has 100 limited-edition products, entitled 'Hem at Play'. Its pinnacle is Dutch designer Bertjan Pot's 'The Incredible House of Cards', offering a whimsical take on his much-loved motif. 17–21 September, 38 Redchurch Street, E2. hem.com
Together with Australian paint pioneer Bauwerk, Design & That is hosting events celebrating colour. Expect workshops, demonstrations and colour consultations, plus a Q&A with Bauwerk's founders.16-17 September, 61 Hackney Road, E2. designandthat.com
26
'Guiltless Plastic' by Rossana Orlandi
The conversation around plastic is rarely positive but that needs to change, says Italian gallerist Rossana Orlandi. At this year's Milan Design Week, she launched a recycled plastic design competition as part of her 'Guiltless Plastic' initiative. See the winning projects and hear her speak at Istituto Marangoni on the opening morning. 19–22 September, 30 Fashion Street, E1. guiltlessplastic.com
27
'A Second Life' by Matter of Stuff at Sketch
Mayfair's most Instagram-friendly haunt will play host to an exhibition by London-based Matter of Stuff. For 'A Second Life', the design and manufacturing consultancy, who also curate an online store, has commissioned several studios to create inventive works from 5,000 pine dowels – previously used in a pop-up gallery. 'We want to make a statement that goes beyond the importance of sustainable design practices,' explains co-founder Simona Auteri. From 14 September, 9 Conduit Street, W1S
28
'Rado Star Prize' at designjunction
The much-loved LED Light Tunnel – which links St Pancras and King's Cross stations with Granary Square is the suitably theatrical setting for the third Rado Star Prize exhibition and award ceremony, which recognises young British design talent. The theme 'Re-Imagine', explores different ways design can improve life, by evolving existing product forms through materials, function, technology, end-use or even, re-use. The Judges' Winner, voted for by a panel including ELLE Decoration Editor Ben Spriggs, will be announced on the 19th September and visitors to designjunction will be able to vote for their favourite. 19-22nd September, King's Cross, N1, radostarprize.com
29
Martyn Thompson and 1882 Ltd pop-up at Jo Malone London
British-born, New York-based Martyn Thompson, former commercial photographer turned textile and product designer, is taking over the Jo Malone London headquarters with a collection of candles and diffusers (launching next April), plus hand-painted ceramics, furniture and fabrics. His 'Falling in Love' series prints will appear on 1882 Ltd-made vessels and packaging, there will be new ottomans and tables and pieces by Pinch upholstered in 'Pink Cloud' (a new colourway of his 'Dropcloth' fabric). Expect beautiful flowers by Wild at Heart's Nikki Tibbles set in large vases, also by Thompson for 1882Ltd. 'This will feel very Brâncuși in style,' Thompson enthuses. From 18-22 September, Jo Malone Townhouse, 52 Gloucester Place.W1. martynthompsonstudio.com; 1882ltd.com; jomalone.co.uk