17 creative ways to add colour to your kitchen
Brighten up the heart of your home with the latest colour trends for 2021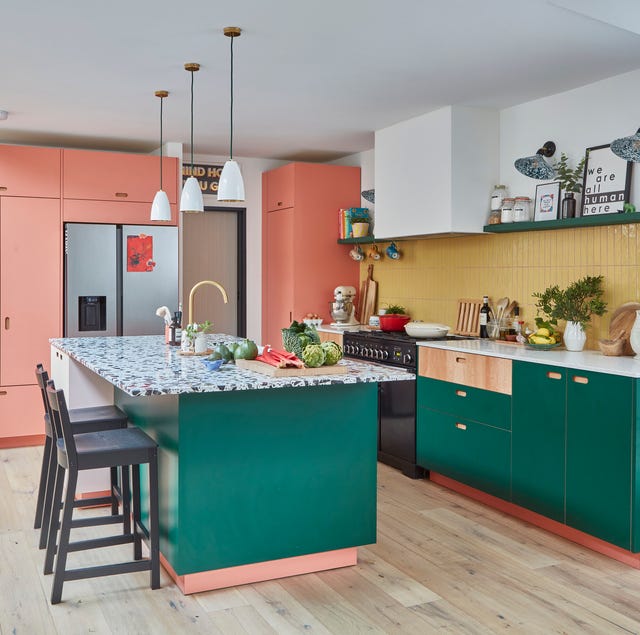 The kitchen can be the perfect canvas for colour. We're talking punchy hues that, just a few years ago, most people wouldn't have dreamt of committing to kitchen cupboards, but have now become one of the best kitchen ideas for 2021 and beyond.
Satisfying this new-found appetite for colour is an array of kitchen makers, including Hølte, Uncommon Projects, Custom Fronts and Husk and Pluck – the latter's projects often combine two or even three coloured laminates with wood veneers.
Co-founder of London-based Pluck, George Glasier, believes that people are becoming ever more confident with building a palette for their kitchen. 'On a basic emotional level, colour in the home can be mood enhancing,' he says, noting that greens are the most popular choice for the kitchen, frequently teamed with pinks.
For anyone wanting to take the plunge, his advice is to eschew trends and think long term: 'It sounds obvious, but you have to like the colour on its own as it's something you will live with for years'.
Read on for colourful kitchen inspiration and bright buys to add statement hues to your space in a flash…
1
Combine colours on cupboards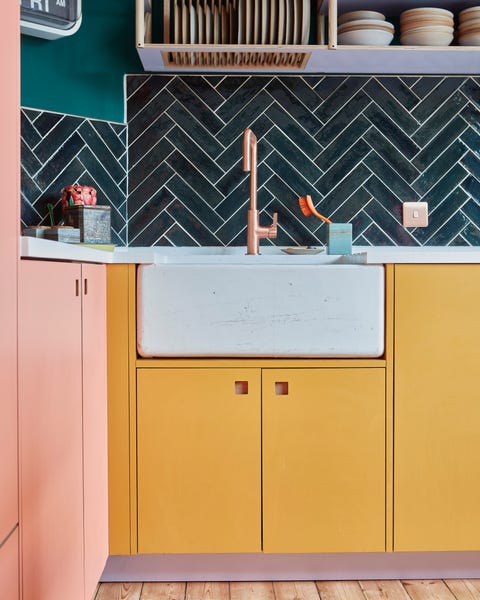 Why pick just one colour for your kitchen cupboards when you can have two, three or even four? This kitchen by Pluck combines pastel shades to joyful effect – even the kickboards have been given a lick of lilac. pluck.kitchen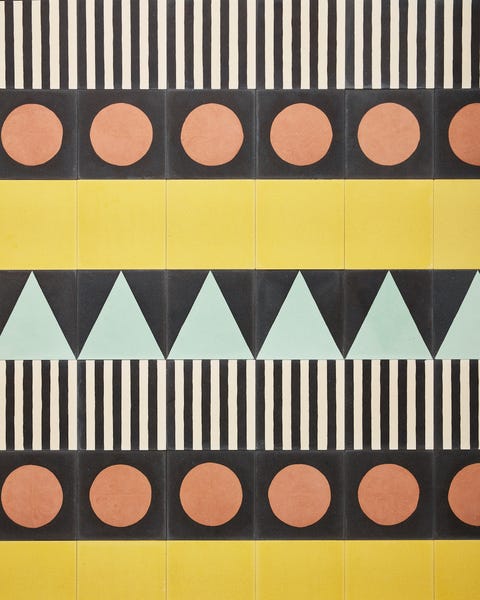 Pattern is a failsafe way to add a dynamic look to kitchens, and is an easy way to introduce more colour, too. Applied to floors, walls or splashbacks, Otto Tiles' 'Carnival' collection adds a playful burst of both – mix and match for maximum impact. £8.64 each, ottotiles.co.uk

3
Create contrast with tiles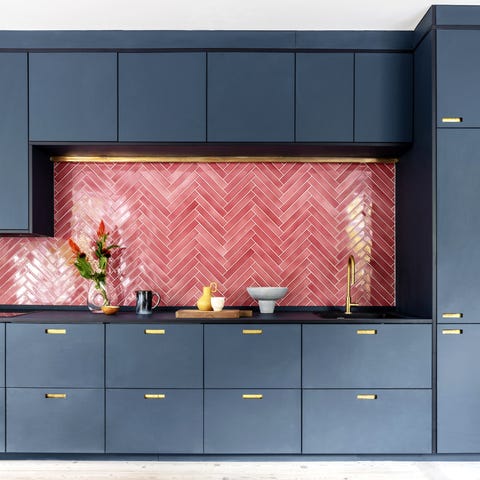 Christina Kayser O./Living Inside
Don't underestimate the impact a plain tile can have either. In this family kitchen in Copenhagen, a pop of colour comes courtesy of a splashback of salmon pink tiles, which contrast with bespoke navy cabinets. For similar tiles, try Ca'Pietra. capietra.com

4
Choose statement surfaces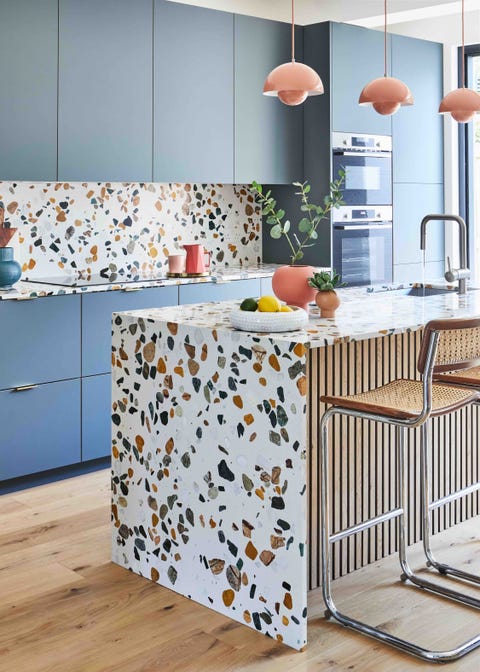 Photography: Lol Johnson Interior design: Nicky Bamford-Bowes
Kitchen surfaces offer an opportunity to go wild with colour – choose from speckled terrazzo, pigmented concrete, laminate or stained timbers. This kitchen by interior design Nicky Bamford-Bowes has picked out shades of blue and pink from its terrazzo top and splashback, made by specialist Diespeker & Co, to create a harmonious yet bold look. diespeker.co.uk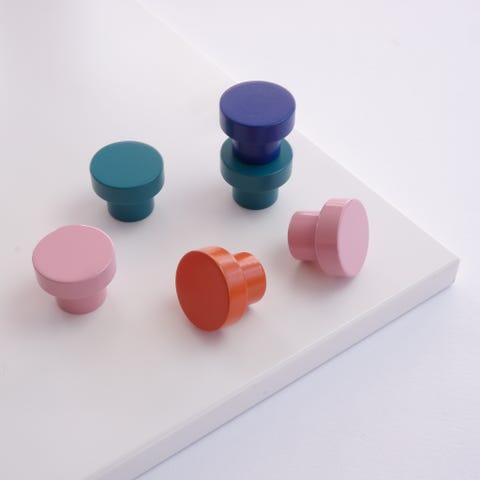 You don't even need to replace your kitchen cupboards and drawers to add a splash of colour. Simply add some new handles. A quick and easy update, Swarf's 'Hobson' and 'Meteor' knobs are available in 10 colours. From £14, swarfhardware.co.uk

6
Embrace matchy-matchy colour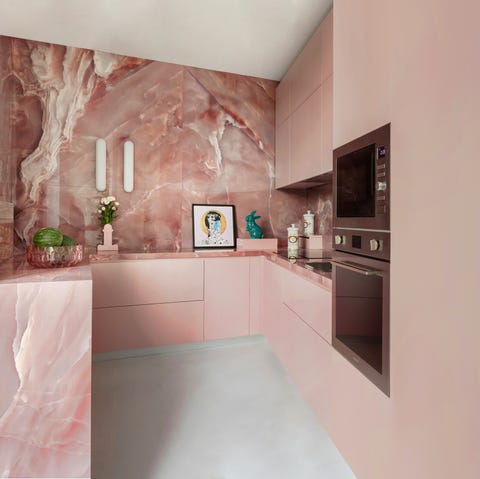 Helenio Barbetta/Living Inside
If you've chosen a colour for your kitchen, why not go all in and apply it to worktops, walls and cupboards for maximum effect? In this bubblegum pink kitchen belonging to the owners of rug brand CC-Tapis, pink onyx adds a luxe, grown-up twist and depth. For natural stone in an array of colours, try Antolini. antolini.com
7
Use colour to zone your kitchen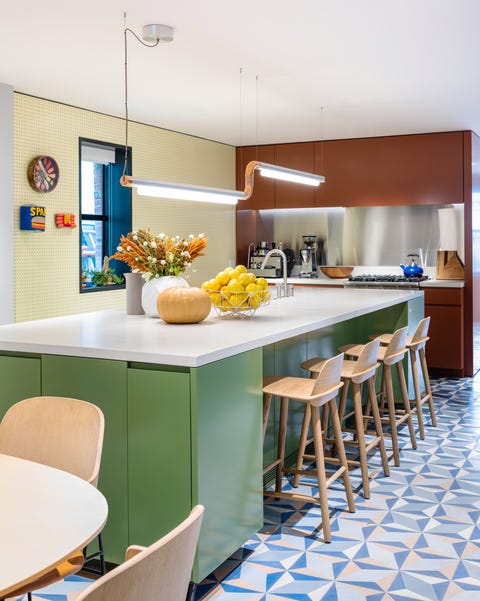 The kitchen in this Brooklyn home by architecture studio MKCA uses bold tones to create practical zones – muted terracotta red marks out the practical prep area, while a vivid green on the island makes for an inviting sociable space. Meanwhile, a colourful floor with tiles from Cement Tile Shop maintains a sense of connection and flow. cementtileshop.com
8
Don't forget the details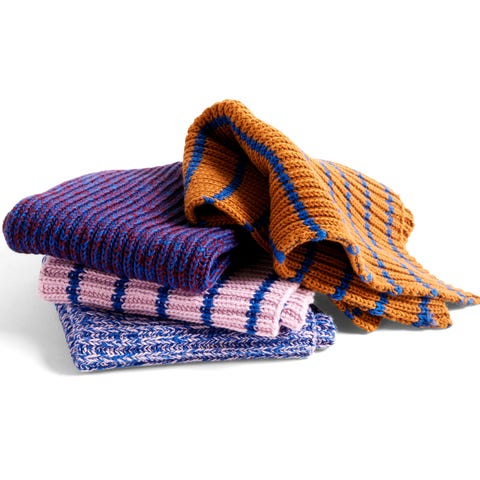 Hay's washable cotton kitchen cloths bring an instant splash of colour to brighten up everyday chores. £11 for a pair, hay.dk
9
Throw in an unexpected shade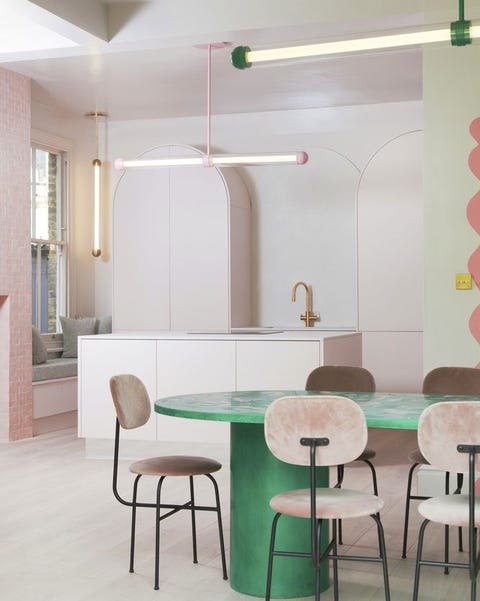 It only takes a splash of one daring hue to make a muted colour palette feel fresh and exciting. In this kitchen by John Lewis of Hungerford, designed by 2LG, an emerald green dining table adds pep to a pale pink palette. john-lewis.co.uk
10
Elevate taps and fittings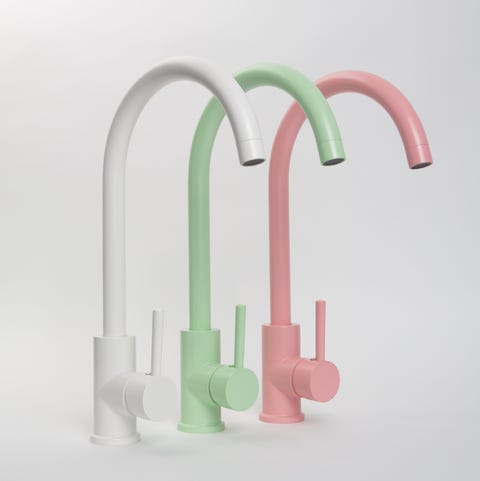 Think beyond black and metallics and make a splash with your kitchen fixtures and fittings. Hardware supplier Dowsing & Reynolds is on a mission to bring fun into the kitchen with its 'Miami Colour Pop' collection. 'Tinkisso' kitchen mixer tap, £99.99, dowsingandreynolds.com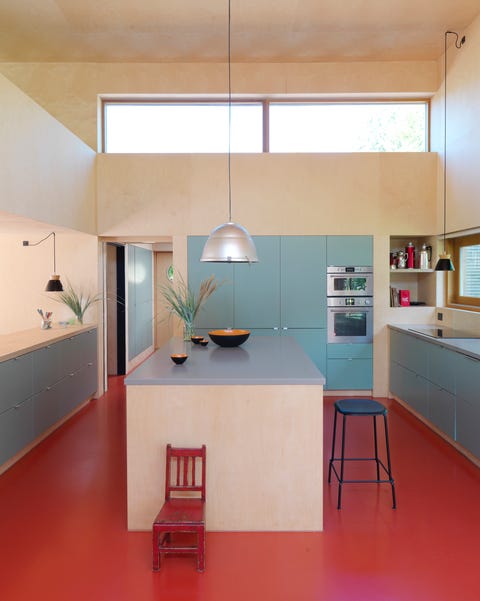 Often forgotten, the kitchen floor offers a world of opportunity to add bold colour. This holiday home in Denmark by architecture firm Cold Wet & Dark features a poured epoxy resin floor in a dramatic red shade, but there are countless vinyls and rubber options on the market for a more affordable option. Try the Colour Flooring Company for similar. colourflooring.co.uk
12
Add cheerful appliances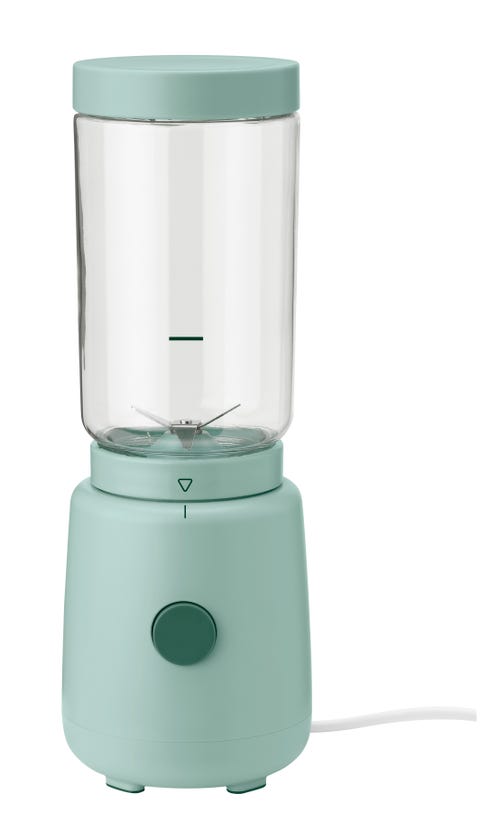 Rig-Tig's 'Foodie' range comes in pretty pastel shades, making designs like its handy blender worthy of a spot on any kitchen worktop. Smoothie blender, £46.95, skandium.com
13
Accent with bold furniture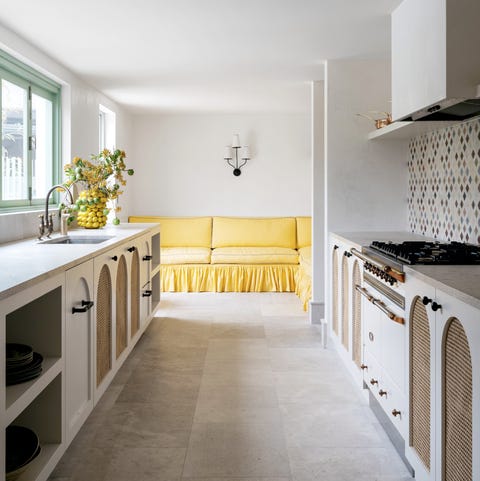 If you're blessed with an open-plan kitchen, there's even more opportunity to add colour. Furniture is an easy way to inject a bright pop of your favourite shade – a yellow banquette uplifts the kitchen in this Sydney home designed by Handelsmann + Khaw. See our guide to the UK's best furniture restorers for upholstery experts who can add a fresh jolt of colour to existing pieces.
14
Add colour to doors and dividers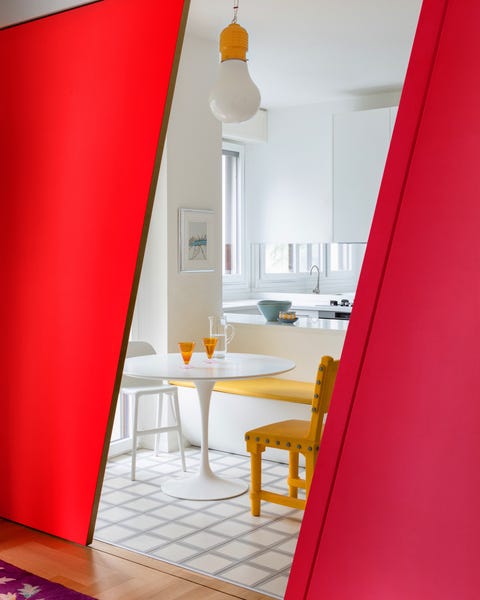 Monica Spezia/Living Inside
If committing your cabinetry to colour is a step too far, consider framing your kitchen in colour via adjoining walls, dividers and doors instead. The bolder the better – this punchy red screen adds a whole new perspective to the white kitchen in interior designer Patricia Bohrer's Milan home.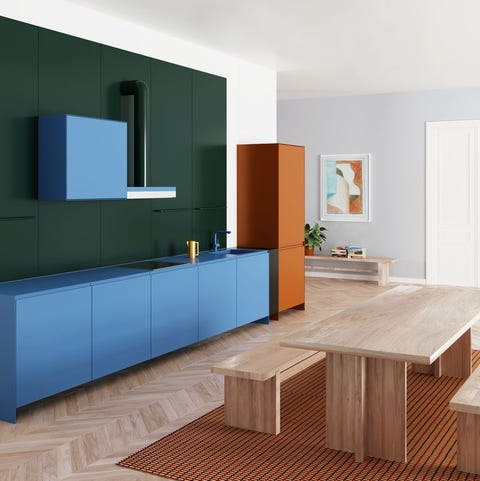 For a crisp and contemporary feel, keep your colours confined to block-like areas, be it kitchen cupboards, splashbacks or walls. For best effect, follow the lead of this apartment's bespoke kitchen created by Russian design studio Supaform, and choose saturated, contrasting shades.
16
Mash-up colours and materials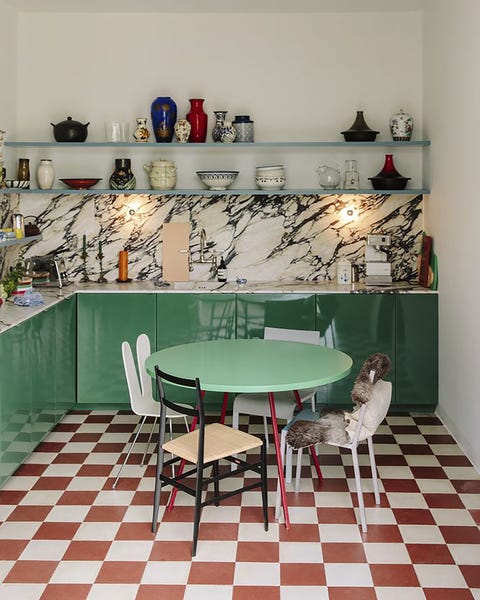 With sea green enamel cabinets, richly veined marble and a red and white checkerboard floor that recalls a 1950s diner, this kitchen by Dutch design duo Muller Van Severen shows that just two hues can be enough to give a space a uniquely personal feel.
17
Get glamorous with colour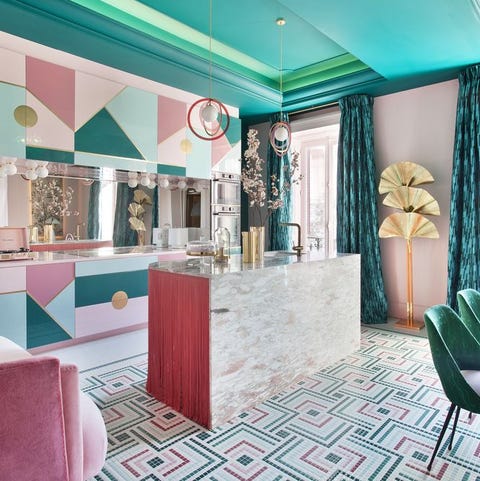 The work of interior designer Patricia Bustos, this flamboyant space uses a melting pot of materials, from metallics and marble to tassels and luxe textiles. A tight colour palette of pink and green keeps the space feeling harmonious, while painting the ceiling in a dark shade fosters a cosy ambience.
This content is created and maintained by a third party, and imported onto this page to help users provide their email addresses. You may be able to find more information about this and similar content at piano.io